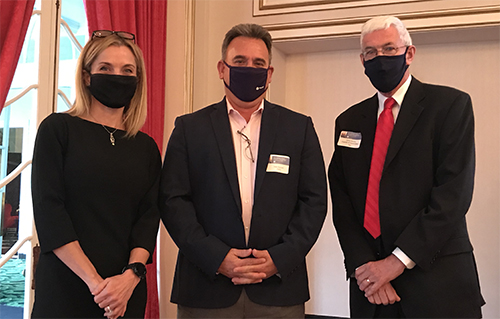 From left, WVMA President Rebecca McPhail is joined by Dale Stemple of Viatris and Dana Burns of Potesta for the presentation to Viatris of the annual Encova and WVMA Safety Award.CHARLESTON, W.Va. – Encova Insurance, in partnership with the West Virginia Manufacturers Association (WVMA), presented the annual Encova and WVMA Safety Award during the WVMA Winter Convention and Annual Meeting December 1 in White Sulphur Springs, W.Va.
The 2020 Encova and WVMA Safety Award was presented to Viatris Inc. (NASDAQ: VTRS), located in Morgantown, a new kind of global health care company formed through the combination of Mylan and Pfizer's Upjohn business, whose mission it is to empower patients worldwide to live heathier at every stage of life.
"It is a great honor for us to present this award in partnership with WVMA," said Lisa Hamrick , senior business development manager at Encova. "At Encova, we know the best accidents are the ones that never happen, and this focus on safety and prevention is what sets us apart from other workers' compensation insurance companies. We are aware that a culture of workplace safety requires education, commitment and dedication from the employer. This award is our way of recognizing those employers who choose to make safety paramount."
The award was presented during the Encova Safety Award Luncheon, with representatives from Viatris accepting the award remotely via Zoom.
"We are pleased to accept this award which demonstrates our firm commitment to employee health and safety," said Dale Stemple, head of Environmental, Health and Safety for North America and Europe at Viatris. "This recognition is well-deserved for our Morgantown team members who are dedicated to making safety a priority – each and every day."
"Viatris sets an amazing example for other manufacturers in our region," WVMA President Rebecca McPhail said. "Their impressive safety record shows that safety and success go together. We are happy to partner with Encova to present these safety awards, so employers like Viatris are given the recognition they deserve."
Viatris employs approximately 3,000 people at its Morgantown, W.Va. location across its operations, commercial segments and business support functions.