Media Minute— a weekly dispatch of local, national and world news impacting West Virginia's manufacturing industry.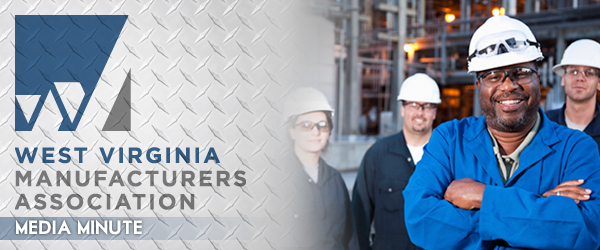 WVMA Media Minute
Media Minute— a weekly dispatch of local, national and world news impacting West Virginia's manufacturing industry.
Lawmakers hear recommendations from WV Forward project
Beckley Register-Herald
The study recommended maintaining current industries including auto manufacturing, metals manufacturing and building projects. Other target areas included carbon fiber, reinforced plastics, fine chemicals and cyber security. The study also focused on tourism opportunities for West Virginia. Goodwin ...
Robert C. Byrd Institute prepares for new program exclusively for women
WBOY-TV
BRIDGEPORT, W.Va. - The Robert C. Byrd Institute expands a new program to North Central West Virginia with the hopes of connecting women to manufacturingcareers. Step Up for Women is the name of the program. "West Virginia Women Work is an 11 week pre-apprenticeship manufacturing ...
Tax reform is an absolute must
The Exponent Telegram (press release)
McConnell will do anything to have a senator from West Virginia he can control to push his damaging agenda that hurts working people — he even cut a deal with convicted coal criminal Don Blankenship. Before he went to federal prison, Don Blankenship donated heavily to Mitch McConnell and his ...
Coal CEO: Senate tax plan 'wipes us out'
ABC15 Arizona
Coal CEO Robert Murray warns that if the Senate version of tax reform is enacted by President Trump he'll be destroying thousands of coal mining jobs in the process. "We won't have enough cash flow to exist. It wipes us out," Murray told CNNMoney in an interview on Tuesday. Murray, a fierce ...
State economy is 'glass half full, glass half empty,' economist says
Beckley Register-Herald
The West Virginia economy is currently a "glass half full, glass half empty" situation, with modest gains in hiring and coal production in 2017, according to a noted economist at West Virginia University. Dr. John Deskins, Director of the Bureau of Business and Economic Research at WVU, said Tuesday ...
Coal Mine Idled In West Virginia, 260 Out Of Work
Manufacturing.net
A union official says a coal mine in northern West Virginia has been idled, with 260 workers losing their jobs, apparently because of adverse geological conditions and market issues. Phil Smith, spokesman for the United Mine Workers of America, tells The Exponent Telegram in Clarksburg that another ...
Manufacturing community seeks legislative help on power rate issue
West Virginia MetroNews
Representatives of the West Virginia Manufacturers Association, the state Department of Commerce and the state Development Office spoke to ...
Manchin hears from coal industry about impact of Senate tax reform bill
West Virginia MetroNews
Bill Raney (West Virginia Coal Association president) sending me emergency messages saying, 'We've got serious problems. This bill is going to kill us.' Bob Murray (Murray Energy president) is in a panic right now..he's going to have to lay people off," Manchin said. "I don't want one miner to lose this ...
'We're on the move,' Gov. Justice says of West Virginia's economic progress
WVAH
In early November, the West Virginia Department of Commerce announced China Energy Investment Corporation Limited's plan to invest $83.7 billion in shale gas development and chemical manufacturingprojects in West Virginia. Justice also mentioned that "our secretary is in New York and he is ...
West Virginia lawmakers authorize $800M in road bonds
Keyser Mineral Daily News Tribune
He cited the road projects, a recent GOBankingRates analysis that said the state's gross domestic product was growing 6.84 percent this year, and recently announced Chinese plans to invest $83.7 billion in natural gas, chemical production and other ventures in West Virginia over 20 years.
Thrasher: China Energy delegation traveling state
West Virginia MetroNews
9 for $83.7 billion in shale gas development and chemical manufacturing ... The governor said the Chinese investors see value in West Virginia.
Program coordinator named for local women's manufacturing program
WDTV
The 10-week pre-apprenticeship program is designed to prepare women for manufacturing careers in North Central West Virginia. The program is held at the Robert C. Byrd Institute in Bridgeport. Women enrolled in the program receive free tuitions and reimbursements for supplies such as work clothes, ...
Capito defends tax reform package
West Virginia MetroNews
Va.) doesn't buy the argument the newly approved Tax Reform measure moved without anyone knowing what was in it. Speaking on MetroNews Talkline Monday, ... Capito believes the substance of the Republican tax reform package has something to benefit all taxpayers and all West Virginians.
Brownfield funding helping reshape West Virginia communities
The Exponent Telegram (press release)
"Since 2009, the BDC has received $2.3 million in EPA funding for 17 properties in Brooke and Hancock counties," said Ford, pointing out most of the "really attractive" sites along the river corridors in West Virginiaare brownfield properties that at one time housed steel, coal, glass or chemical operations.
Improving Tax Policy in W.Va.
Wheeling Intelligencer
It is that, despite setbacks on their campaign for tax reform in West Virginia, conservative legislators are willing to try again. If so, good. Tax reform is a complex, controversial issue. Just consider events in Washington, D.C., if you doubt that. There are so many competing interests and ideas that forging a ...