Media Minute— a weekly dispatch of local, national and world news impacting West Virginia's manufacturing industry.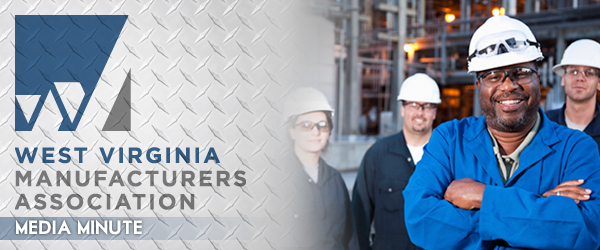 WVMA Media Minute
Media Minute— a weekly dispatch of local, national and world news impacting West Virginia's manufacturing industry.
Kris Patrick Named President of Ergon Refining, Inc., and Ergon - West Virginia, Inc.
Business Wire (press release)
JACKSON, Miss.--(BUSINESS WIRE)--Ergon has named Kris Patrick President of Ergon Refining, Inc., and Ergon - West Virginia, Inc., the company's naphthenic and paraffinic refineries. In this new role, he will provide leadership in the areas of manufacturing operations, supply and distribution, planning ...
Rick Wilson: GOP plans to gut Medicaid to finance tax cuts (Gazette)
Charleston Gazette-Mail
And, under what must be huge pressure from the federal administration, there are officials in West Virginiawho seem eager to push for bogus "reforms" that will ultimately reduce the number of people with health care. Cutting Medicaid rolls may seem attractive to some people, even if it means taking ...
Trump's claim that West Virginia is 'sending clean coal' to 'China'
Washington Post
"I think regulatory reform, coupled with tax reform, is exactly what we need to help make America great again," she said. "We've done that," responded Trump, before detailing the ways that coal is purportedly making a comeback in West Virginia. Regular readers of The Fact Checker may recall that we ...
Peace on Earth: Can we help?
Parkersburg News
The petrochemical business is a global business. The consumers of products from petrochemicals are global. They are manufactured around the world. What smart company would try to destroy or put their best customer out of business? The Toyota products manufactured in West Virginia are sold all ...
Sides split on if tax bill would benefit West Virginia
West Virginia MetroNews
For Jason Huffman, state director of the West Virginia chapter of Americans for Prosperity, the congressional efforts to pass tax legislation is an opportunity to spur economic growth. "This is a ... "They discounted a lot of positive growth effects of tax reform package," Huffman said of the recent analysis.
Statehouse Beat: State Supreme Court runs up quite a tab
Charleston Gazette-Mail
This is the guy who used to close his now-defunct TV talk show by telling his audience, "Keep working for a better West Virginia." ... ability to sue businesses, after repealing prevailing wage and rolling back regulations, and becoming a "right-to-work" state, is West Virginia still in last place for business?
American Woodmark plans to acquire product company
The Winchester Star
American Woodmark, founded in 1980, creates and distributes kitchen cabinets and vanities for home remodeling and new construction. The Winchester-based companyhas more than 5,000 employees and has additional manufacturing and service facilities in Virginia, West Virginia, Maryland, Indiana, ...
Legislative look ahead: Lawmakers offer wish list for 2018
Martinsburg Journal
"We need to modernize our laws relating to natural gas an oil extraction to make West Virginia more competitive," Trump said. ... Delegate Mike Folk, R-Berkeley — who described legislating as a cross between the arcade game Whac-A-Mole and a tug of war — said any state tax reforms proposed next ...
US adds 228000 jobs in November
West Virginia Public Broadcasting
On average, about 174,000 jobs have been added each month this year. That's down from average monthly gains of 187,000 jobs in 2016. Among the sectors that have added jobs over the last twelve months are manufacturing and construction. Since November of last year, manufacturing employment ...
Worker Shortage Could Dampen Economy
West Virginia Public Broadcasting
U.S. employers added 228,000 jobs last month. Manufacturing jobs in particular are bouncing back. Employers and President Trump now have a new challenge if they want to keep the economy growing, and that is finding enough workers. NPR's Scott Horsley reports. SCOTT HORSLEY, BYLINE: The ...
Pipeline taxation still a puzzle in Monroe County
Beckley Register-Herald
But the assessor warned commissioners that he believes the West Virginia Legislature is poised to revive a tax reform proposal early next year that would do away with all of the state's personal property taxes — including business inventory and vehicles. Because such a change would lead to massive ...
James Broughel and Garrett Ballengee: Zooming in on state's rules and regs (Daily Mail)
Charleston Gazette-Mail
Depending on who you ask, the Environmental Protection Agency, foreign competition, the opioid epidemic and an antiquated, growth-stifling tax code might come up. However, another ... Though a relative unknown to the public, the Code of State Rules is where West Virginia's state regulations reside.
Coal CEO: Senate tax plan 'wipes us out'
CNNMoney
Coal CEO Robert Murray warns that if the Senate version of tax reform is enacted by President Trump he'll be destroying thousands of coal mining jobs in the ... Murray, a fierce supporter of Trump's efforts to revive coal, condemned the Senate bill as a "mockery" that would inflict a devastating tax hike on ...
Brownfields Program has made major impact in W.Va.
The Exponent Telegram (press release)
But thus far that chamber hasn't acted as it works to tie down tax reform. We urge Sens. Shelley Moore Capito, R-W.Va., and Joe Manchin, D-W.Va., to help move this key reauthorization act at a faster pace through the approval process. The Brownfields Program has done wonders in West Virginia.
WVU Receives $4 Million to Commercialize Work in Vaccinations, Artificial Intelligence and Shale ...
Newswise (press release)
WVU research is being bolstered by $3.9 million in Research Challenge Grants from the West VirginiaHigher Education Policy Commission to build additional ... Advancing science and engineering shale gas utilization will help reestablish West Virginia's chemical manufacturing industry, incentivize ...