Media Minute— a weekly dispatch of local, national and world news impacting West Virginia's manufacturing industry.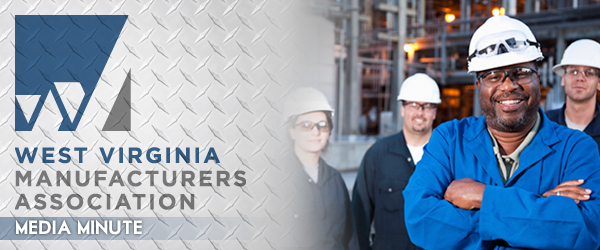 WVMA Media Minute
Media Minute— a weekly dispatch of local, national and world news impacting West Virginia's manufacturing industry.
Tax reform bill sparks questions from West Virginians
WVAH
"We may see a nominal positive impact from it but it's going to be nominal it's not going to be huge, and what little impact we have, it's not worth it to me if I'm going to see that next year that programs that help people in West Virginia are going to be cut," Hamsher said. With the bill's elimination of the ...
Laura Gilliam: Current tax reform bill does not help charities
Huntington Herald Dispatch
In West Virginia 780,830 filers claimed the charitable deduction accounting for $498,612,000. A 5 percent loss resulting from tax reform would mean $240,930,600 less to fund food pantries, youth mentoring programs, substance abuse treatment, dropout prevention efforts and more. Our tight budgets ...
Sen. Manchin: Tax Reform Bill Brings No Guarantees
Newsmax
There are no guarantees involved in the tax-reform legislation coming up for a vote this week, Sen. Joe Manchin said Monday, so he won't be crossing the aisle to cast his vote with Republicans to pass the measure. "First of all, it's not permanent for the individual," the West Virginia Democrat told Fox ...
Marshall University hosts Chinese delegation at Robert C. Byrd Institute
Huntington Herald Dispatch
West Virginia Gov. Jim Justice announced last month that the Chinese have signed a memorandum of understanding to invest up to $83.7 billion in West Virginia. China Energy Investment Corp. reportedly plans to develop shale gas and chemical manufacturing infrastructure in West Virginia during the ...
Rock Creek pivot: Hoyer says site has great potential for military training
West Virginia MetroNews
But state Senator Ron Stollings (D-Boone) said Monday he fears the change will take away the momentum from the plans to bring manufacturing jobs to southern West Virginia. "I don't want there to be a total replacement of the original project which would bring high-paying manufacturing jobs into just ...
Thrasher sees potential in West Virginia's forests
West Virginia MetroNews
Many of West Virginia's signature industries have long struggled with raw materials being shipped elsewhere to be turned into final products. "It's true in petrochemicals, it's been true in coal and it's true in forestry," Thrasher said. "So we want to change that. The governor wants those value-added ...
'Inside West Virginia Politics' Looks Back on 2017; Ahead to 2018
WVNS-TV
"Tax reform isn't necessarily about just cutting taxes. It's really about reform the state tax code in a way that's going to lead to more economic growth in the state of West Virginia," said State Sen. Ryan Ferns, (R) Ohio - Majority Leader. "Once again its very much a look back on 2017, with a look ahead tp ...
Constellium awarded the 2017 Defense Manufacturing Technology Achievement Award for its ...
Nasdaq
The hull plates, produced at Constellium's plant in Ravenswood, West Virginia, were live fire tested with excellent results, which were utilized by U.S. Army experts to generate requirements for future Army combat vehicles. This technique offers the Army redesign flexibility not available with alternative ...