Media Minute— a weekly dispatch of local, national and world news impacting West Virginia's manufacturing industry.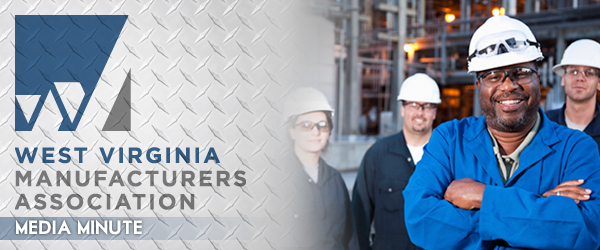 WVMA Media Minute
Media Minute— a weekly dispatch of local, national and world news impacting West Virginia's manufacturing industry.
LISTEN: Take a Tour of One of W.Va.'s Most Successful Furniture Factories
West Virginia Public Broadcasting
... chicken eggs, a major pipeline project in Pennsylvania, and we take a tour of one of the most successful furniture manufacturers in West Virginia. ... trail and in his first State of the State address, Governor Jim Justice talked about the timber industry and boosting furniture manufacturing in West Virginia.
Poll: President Trump's approval rating down in W.Va. from one year ago
WSAZ-TV
CHARLESTON, W.Va. (WSAZ) -- A new poll shows President Donald Trump's approval rating in the Mountain State has fallen since he was elected. According to the poll from W.Va. PR firm Orion Strategies, President Trump's approval rating is 51 percent approve with 48 percent of those polled ...
Super PAC Bolsters Patrick Morrisey's Campaign to Challenge Joe Manchin
Breitbart News
A Super PAC that supports West Virginia Attorney General Patrick Morrisey announced on Tuesday that it has raised $700,000, bolstering Morrisey's ... arguing that "President Trump is exactly right," that Manchin "pretended to stand with West Virginians but then voted with Chuck Schumer" on tax reform.
Thrasher hopes to "capture a victory" in China this week
West Virginia MetroNews
State Commerce Secretary Woody Thrasher says he's in China this week to "capture a victory" for West Virginia. File. Woody Thrasher. The state signed a ... 9 for $83.7 billion in shale gas development and chemical manufacturing projects over the next few decades. Thrasher recently told MetroNews ...
Fiscal discipline needed in W.Va.
The Steubenville Herald-Star
General revenue budget income was less than 0.14 percent higher than spending. There are reasons for cautious optimism. A general improvement in the nation's economy, spurred in part by tax reform, will help West Virginia. President Donald Trump's reversal of Obama-era anti-coal policies will help.
State's inventory tax is hindrance to economic development
WV News
West Virginia's tax structure is in many ways antiquated and self-defeating when it comes to job creation. Manufacturing, oil and natural gas, mining and construction jobs represent the highest paid jobs in the state. It is these types of employment opportunities that will benefit the most from eliminating a ..
New dawn for West Virginia – Reasons to hope and believe
WV News
... is coming from West Virginia, Ohio and Pennsylvania (the Shale Crescent USA) which is now producing almost 1/3 of our nation's natural gas. In 2010, this was just 3 percent. The Shale Crescent is also a leading producer of NGLs, the feedstock for petrochemicals. We need petrochemicals to produce ...
Coalfield Development Corp. working to end coal country's cycle of poverty
WV News
Today, he's the CEO of the Coalfield Development Corp., a multi-million-dollar operation dedicated to creating jobs and providing vital job training for southern West Virginia, where thousands of miners have lost their jobs in the state's troubled coal industry. Coalfield Development's various projects ...
Local lawmakers share views on key issues
WV News
"There's only about 12 states that tax Social Security income, and West Virginia is one of them," he said. "I think if we were able to eliminate that tax, senior citizens who are on fixed income will greatly benefit and we might even become an attractive place for seniors born and raised here to want to move ...
Mid-Ohio Valley company makes acquisitions to expand reach
Parkersburg News
The company has grown and expanded since that time with about 60 employees at locations in Parkersburg, Fairmont and Charleston in West Virginia, along with a location in Bristol, Va. Collie said AIP specializes in providing interior products for commercial projects, including metal studs, drywall, ...
Manchin applauds Trump order on expanding rural broadband access
Beckley Register-Herald
Va., speaks about tax reform on Capitol Hill in Washington. ... David McKinley of West Virginia, who hope to attract the project to their home state. ... Va., applauded President Trump's executive order and memorandum aimed at expanding broadband access in rural communities in West Virginia and ...
Letter: Sen. Manchin said no to tax reform (Daily Mail)
Charleston Gazette-Mail
Our own West Virginia U.S. Sen. Joe Manchin voted "no" to decrease the taxes on working families of our state. Many of these are households where both parents work, which requires maintaining two vehicles, delivering the kids to school in many cases and picking them up from day care. Manchin ...
Senate gavels in to session, introducing 151 bills
Beckley Register-Herald
CHARLESTON – The West Virginia Senate gaveled into the first day of the 60-day regular session, introducing 151 bills Wednesday. Senators introduced several bills dealing with education, taxes and various social issues. ... Senate Bill 125: The 2018 Tax Reform Act. It was introduced by Karnes.