Media Minute— a weekly dispatch of local, national and world news impacting West Virginia's manufacturing industry.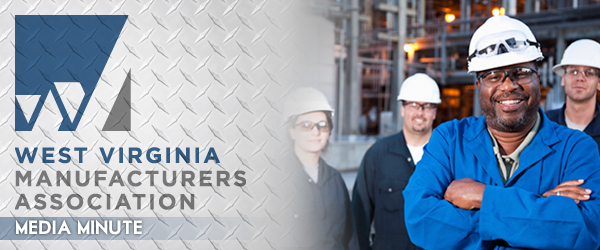 WVMA Media Minute
Media Minute— a weekly dispatch of local, national and world news impacting West Virginia's manufacturing industry.
Chevron Invests $630K to Boost ShaleNET Programs
West Virginia MetroNews
FAIRMONT, W.Va. — Pierpont Community & Technical College is one of four institutions receiving funds from Chevron Appalachia as part of the company's ongoing commitment to area workforce development. Since 2014, Chevron has invested more than $2.1 million in ShaleNET programs the region's ...
State economic developers hear about new programs, key issues at legislative conference
WV News
CHARLESTON — Economic developers and industry experts from across the state gathered in Charleston for the West Virginia Economic ... Also on the day's agenda: A brief update on the West Virginia Manufacturers Association; a legislative update by Spillman, Thomas & Battle attorney Jason ...
Tax Reform and Uncertain Economy Driving State Budget Proposals
Governing
In West Virginia, Gov. Jim Justice urged lawmakers to "find a way to make our community and technical colleges free," and is pushing a plan for high school students to earn an associate's degree before they graduate. Cuomo also wants free college and has proposed extending New York's millionaire's ...
Senate committee expands bill creating community college grant program
metronews
CHARLESTON, W.Va. — The bill that would provide the 'last dollar in' to complete payment for tuition and fees for community and technical college students will now include more students in a change made by the state Senate Education Committee Tuesday...
Business community buoyed by China Energy, underground storage hub progress
WV News
The MOU means China Energy is exploring the feasibility of investing in the Mountain State's shale gas and chemical manufacturing projects, though it hasn't committed. ... Rebecca McPhail, president of the West Virginia Manufacturer's Association, said the business community is seeing progress.
Education at heart of Carmichael's plan for economy
The Fayette Tribune
We are not sure if West Virginia officials made a pitch to Amazon to become home to the company'ssecond North American headquarters, but we do know this: 238 proposals from ... Plans include power generation, chemical manufacturing and underground storage of natural gas liquids derivatives.
National pilot shortage could affect WV airports
WVNS-TV
BLUEFIELD, WV (WVNS) -- In a 2017 outlook by aircraft manufacturing companyBoeing, a pilot shortage on a national and global scale that could shake the entire airline industry, with 60,000 needed within the next five years alone. West VirginiaAirport Managers Association president Clint Ransom ...
Manchin, Capito: Time to get to work
Martinsburg Journal
Sen. Susan Collins, R-Maine, left, and Sen. Joe Manchin, D-W.Va., right, clink glasses in a toast to each other as they wait to speak at a news conference on Capitol Hill in Washington, Monday, Jan. 22, 2018, after Senators reached an agreement to advance a bill ending government shutdown.
Upshur to see tax boost from pipeline
Record Delta
Hardesty said the liquids that can be extracted from the gas could be used in West Virginia for manufacturing, but noted that 95 percent of the gas has been purchased. "It's not a 'Build it and they will come,'" he said. "There are customers waiting on the gas." Brittany Moody, project engineer, said the ...
US representative candidate plans to stand up for WVU
The Daily Athenaeum - thedaonline
Ralph Baxter, a contender for West Virginia's first District U.S. Representative seat in the 2018 election, said he will stand up for West Virginia University. "[WVU] is ... While manufacturing jobs should continue to increase in West Virginia, Baxter put emphasis on bringing "information age" jobs to the state.
W.Va. officials gearing up to sell business tax on inventory reduction plan (copy)
WV News
Steve Roberts, president of the West Virginia Chamber of Commerce, said West Virginia continues to lose manufacturing jobs, even as the state adds jobs in most other sectors. "We very much agree that West Virginia has got to improve its economic competitiveness," Roberts said. "We would like to ...
Poll reveals West Virginia opinion on politics, opioids and more
Beckley Register-Herald
Other national issues polled include the recently passed tax reform bill signed into law last month. When asked if it would benefit average West Virginians, 38 percent said it would help, 27 percent said it would hurt, 19 percent said it would have no effect and 16 percent were unsure. The poll tested a ..
Changes ahead for House of Delegates as Armstead plans to go
West Virginia MetroNews
Once they gained the majority, Republicans fulfilled long-sought goals such as passing right-to-worklegislation, doing away with prevailing wage and making changes to West Virginia's torts system. But for two years straight they also wound up in special sessions, putting together budgets up against ...
WV voters give Trump high approval rating
Williamson Daily News
Since then, Trump has spent more time under 40 percent than any other first-year president. The Orion Strategies poll also asked for the opinion of West Virginia voters on a number of current topics as well as national issues in the news. Other national issues polled include the recently passed tax reform ...
W.Va. Timber: Furniture Company Thriving in Berkeley Springs
West Virginia Public Broadcasting
"We have fantastic suppliers in terms of mills and drying operations that really give us a fantastic product. No one has done a better job that we've done here in West Virginia, Pennsylvania and New York in maintaining a healthy, vibrant, growing, diverse forest. It also happens to be a forest that has the ...
Budget Crunching in West Virginia Capitol
WOWK
The West Virginia Center on Budget and Policy held it's annual breakfast briefing, with lawmakers in attendance. This year there are big ... And after a while that's just not going to work," said Ted Boettner, WVCenter on Budget & Policy. And there is also talk ... And it's just right to get people back to work.