Media Minute— a weekly dispatch of local, national and world news impacting West Virginia's manufacturing industry.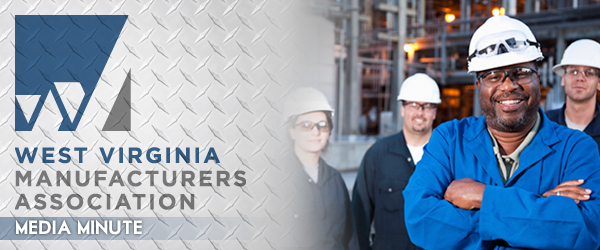 WVMA Media Minute
Media Minute— a weekly dispatch of local, national and world news impacting West Virginia's manufacturing industry.
Anne Blankenship addresses business summit
Anne Blankenship (right), of the West Virginia Oil and Natural Gas Association, waits for the Senate Judiciary Committee to take up the co-tenancy bill. The bill was ... Blankenship said Chinese investors could be a big driver of the storage hub concept and its associated manufacturing plants. A Chinese ...
West Virginia seeing upswing in manufacturing jobs
At the same time, P&G is sharply cutting employment at a plant in Iowa City, Iowa, eliminating about 500 jobs there. The company is shipping the Kansas City and Iowa City jobs to Mexico or maybe somewhere other foreign country, right? Wrong. The jobs in question will soon be filled by West Virginians.
Crackers more lucrative in Marcellus region
PURCHASE AGREEMENT — Officials with PTT Global Chemical said they have an agreement to acquire the Ohio-West Virginia Excavating property ... However, officials with the Shale Crescent USA group, which represents several industry organizations in the Marcellus and Utica region, believe they ...
RCBI, SBDC partner to aid businesses in coal country
HUNTINGTON — The Robert C. Byrd Institute has teamed with the West Virginia Small Business Development Center to deliver nearly $50,000 in direct ... Diana Barnette, who owns MRS Manufacturing, a Holden company that fabricates metal products, said working with RCBI "has been extremely ...
A Rising Tide: Regional promotion can help gas industry
Officials in West Virginia, Ohio and Pennsylvania are making a smart move in agreeing to cooperate, rather than compete, in marketing the region for ... ideas on streamlined regulations and tax reform that would enhance our region's appeal to employers in the field — without compromising our other ...
Mysteries at your Museum: Marbles and their makers
Today, Marble King of Paden City, West Virginia is the leader in US marble manufacturing. Its forty employees manufacture over 1,000,000 marbles each day. They operate seven days a week, three hundred sixty-five days a year. The company had its roots in the Peltier Glass Company, a primary ...
Shale Gas May Rescue Appalachian Economies If It Can Win Public Acceptance
IHS Markit concludes that the region, which is made up of Ohio, Pennsylvania and West Virginia and which it calls Shale Crescent USA, will "provide a significant financial advantage" when compared to the Gulf Coast. It specifically refers to chemical plants, which would use "wet" natural gas as a ...
Latest Stack Deal Hints At Greater Asian Interest In US Shale
As of January, the company's Midcontinent production included 20 wells in and around Garfield, according to the most recent Oklahoma Corporation Commission data available. Established in 1962, SK Innovation was South Korea's first oil refining company. The company owns refining, chemical and ...
IHS: Appalachia has edge over the Gulf for shale profit
Texas and Louisiana have their charms, but the wandering eyes of petrochemical investors soon might fall on Ohio, Pennsylvania and West Virginia. Shale gas and oil deposits in that tri-state area can deliver "significant financial advantages" compared to a similar ethylene facility on the U.S. Gulf Coast, ...
Could Shale Gas Lead To A Manufacturing Boom In Appalachia?
The analysis adds that Ohio, Pennsylvania and West Virginia have an advantage because their supplies are closer to where the shale gas would be consumed, and because of abundant fresh water supplies — a region that holds an estimated 141 trillion cubic feet of recoverable natural gas. It further ...
Trust Trump on tariffs, Justice suggests
At the end of the day, President Trump is probably more boisterous than I. But I love him and I know how much he cares about West Virginia," Justice said Thursday during public remarks at the West ... The tariffs would also undermine the historic tax reform that is helping so many in the Mountain State." ...
West Virginia, Ohio, Pennsylvania governors form shale gas agreement
"Shale gas presents an opportunity to spur economic growth beyond the wellhead. We are working to attract investors and downstream partners. We are encouraging chemicals and plastics manufacturers to come here, stay here and grow here with us in the Appalachian region." The Appalachians have ...