Media Minute— a weekly dispatch of local, national and world news impacting West Virginia's manufacturing industry.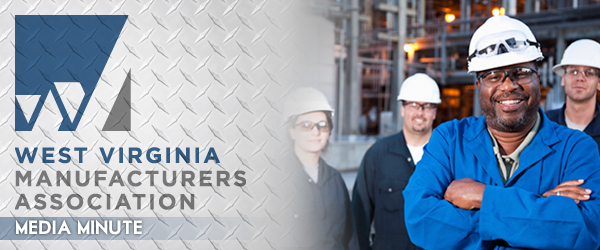 WVMA Media Minute
Media Minute— a weekly dispatch of local, national and world news impacting West Virginia's manufacturing industry.
President Trump to return to Greenbrier County
WDBJ7
According to White House officials, President Donald Trump is set to arrive in Lewisburg, West Virginia at the Greenbrier Valley Airport Thursday. President Trump will then travel to the White Sulphur Springs Civic Center where he will make his remarks in a roundtable discussion about tax reform.
Renewable energy firm to locate in Boone development park
Huntington Herald Dispatch
"It is clear to me," West Virginia Del. Rodney Miller, D-Boone, told Boone County Commissioners on Tuesday, "that with the investors that are lined up along with the interest, it is readily obvious that this takes us outside the box of the traditional thinking that we've had in West Virginia into a high tech, ...
How Alabama is becoming the auto capital of the South
West Virginia Public Broadcasting
Alabama's auto sector has taken off in the past 20 years. From next to nothing, it has become the fifth-largest state for auto manufacturing, fueled by German and Asian carmakers, and it's growing. With new jobscoming, analysts expect Alabama to move up in state auto manufacturing rankings in coming ...
Trump to discuss tax cuts at West Virginia round-table
WTHR
WASHINGTON (AP) — President Donald Trump will promote recent tax cuts during a round-table discussion in West Virginia this week. The White ... The Department of Homeland Security, Pentagon and White House did not immediately respond to requests for comment on how such a plan might work.
The opportunities that lie beneath (and above)
WV News
Pipeline projects alone represent one of the largest private infrastructure projects in West Virginia's history — representing more than $5 billion in economic impact, tens of ... NGLs, including ethane, are the building blocks for our chemical manufacturing facilities and are used to make plastic products.
China pledged to invest $250 billion in the United States. Now what?
kplr11.com
—Sinopec, China's state-owned oil and gas company, said it would explore an investment of up to $43 billion in Alaska's energy sector. ... is also state-owned, signed a non-binding agreement with the state of West Virginia to invest nearly $84 billion in shale gas and chemical manufacturing projects.
Manufacturing losses have fueled opioid addiction: Study
Washington Examiner
Those include parts of Georgia, Indiana, western Kentucky, Michigan, Minnesota, North Carolina, Ohio, Pennsylvania, South Carolina, Tennessee, West Virginia and Wisconsin. Communities in which the manufacturing base shrank saw lower employment rates for working-age women and particularly ...
Gun bill disappoints business
The Dominion Post
West Virginia Manufacturers Association President Rebecca McPhail commented in an email exchange, "Needless to say, our members had hoped the governor would veto the bill. While the WVMA and its members support the Second Amendment, we believe that there must be a balance between ...
Businesses at Benedum Aerospace and Industrial Park continue to thrive
WV News
"Aurora's West Virginia location is dedicated to lean composites manufacturing for winged and rotor aircraft for both commercial and defense customers," he said. "Our portfolio is balanced between established programs of record and development work, which equates to better stabilized employment for ...
Women find career passions through manufacturing
WDTV
The Step Up for Women Advanced Manufacturing Pre-Apprenticeship program is a partnership between RCBI and West Virginia Women Work. "I liked the wage and it seemed like fun. I've always been home. The only thing I have ever done is house keeping and cleaning. When this came up I couldn't ...
Rep. McKinley speaks on opioid crisis, China deal
WV News
McKinley also spoke at length about business in West Virginia, including his support for the National Energy Technology Laboratory (NETL) and its ... and the China Energy Investment Corp., which plans to invest over $80 billion in West Virginia shale gas development and chemical manufacturing.
Congressional candidates set priorities, gain endorsements
Huntington Herald Dispatch
"I am proud to sign the Taxpayer Protection Pledge and make it official, on the record, that I will never vote to increase taxes when I'm elected to represent Southern West Virginia in Congress. "I have actively fought against high taxation and I've been a clear voice for reform. I supported President Trump's ...