Media Minute— a weekly dispatch of local, national and world news impacting West Virginia's manufacturing industry.
West Virginia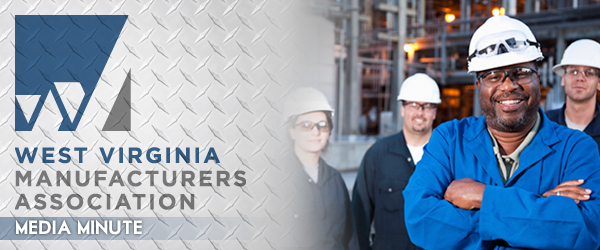 WVMA Media Minute
Media Minute— a weekly dispatch of local, national and world news impacting West Virginia's manufacturing industry.
West Virginia
Rebecca McPhail: Today's youth, tomorrow's workforce (Daily Mail Opinion)
Charleston Gazette-Mail
This past year, West Virginia's economic growth rate was ranked highest of any state in the country, thanks in part to an uptick of manufacturing across ...
Justice dismisses 'F' on Cato Institute report card on fiscal policy
Charleston Gazette-Mail
"West Virginia is currently experiencing a record budget surplus, our manufacturing growth is one of the best in the nation, the mining industry is going ...
Tax credit rewards work, boosts local economy
Beckley Register-Herald
West Virginia could make such a reform by creating a state Earned Income Tax Credit. Enacted in 1975, the federal Earned Income Tax Credit (EITC) ...
Fifth annual West Virginia Makes Festival
MU The Parthenon
Fifth annual West Virginia Makes Festival ... created to be on the first Friday in October every year because it is National Manufacturing Day, ... "The idea behind the WV Makes Festival is to inspire people to create and support those ...
Hino to add 250 jobs at new plant
Parkersburg News
MORGANTOWN –Auto manufacturing will be the fastest growing in the manufacturing segment of West Virginia's economy with the expansion of Hino ...
Showcasing the positives
Parkersburg News
What does Tennessee have that West Virginia does not (besides about 5 ... "an ideal climate for advanced manufacturing location and expansion.
West Virginia Makes Festival celebrates ingenuity
Huntington Herald Dispatch
It was presented by the Robert C. Byrd Institute (RCBI), and the event coincides with National Manufacturing Day, a coast-to-coast effort to raise ...
Manufacturing could face a slowdown
West Virginia Public Broadcasting
Manufacturers have been adding 20,000 to 30,000 jobs per month since the summer of 2017. But that upward trend took a pause in August, with a ...
Students Encouraged To Pursue Manufacturing Careers During Visit to West Virginia Northern ...
Wheeling Intelligencer
Students participated in the West Virginia Manufacturers Association Education Fund's "Explore the New Manufacturing" statewide program to boost ...
Building W.Va. Small Business
Wheeling Intelligencer
West Virginia has become more attractive as an economic development destination during the past couple of years. Tax reform at both the state and ...
W.Va. faces party sunny economic future due to 'uneven recovery,' according to expert economist
WV News
Speaking to more than 200 West Virginia business and political leaders ... Association, was pleased the economic forecast for manufacturing is ...
Surging potential for downstream natural gas development examined at Charleston, WV, panel
WV News
CHARLESTON — Experts examined how a big part of West Virginia's ... Examples of products manufactured from any downstream natural gas ...
United States
US seeks deeper farm tariff cuts than in Japan-EU pact: Perdue
The Mainichi
WASHINGTON (Kyodo) -- The United States will push Japan to reduce tariffs on agricultural products beyond levels agreed to under a free trade ...
Steel tariff talks with US still ongoing, says Economic Development Minister
Yahoo Sports
Canada's Economic Development Minister says the government is making "meaningful progress" on discussions with the U.S. administration over ...
October is Manufacturing Month
Evening Observer
Per the National Association of Manufacturers (NAM), manufacturing has the highest multiplier effect of any major sector. The NAM estimates that for ...
Booming economy creating excess jobs with too few workers
Charleston Post Courier
Manufacturing confidence has reached record levels, according to the National Association of Manufacturers, with most firms reporting plans for further ...
Manufacturing Day Provides 'Awesome Platform'
Inside INdiana Business
Some initiatives connected to the celebration have already taken place and event organizers the National Association of Manufacturers and the ...
Companies in US add most jobs in seven months, ADP data show
Employee Benefit News
163k) Payrolls in goods-producing industries, which include manufacturing and construction, climbed 46k, most since March, after 23k Service ...