Media Minute— a weekly dispatch of local, national and world news impacting West Virginia's manufacturing industry.
West Virginia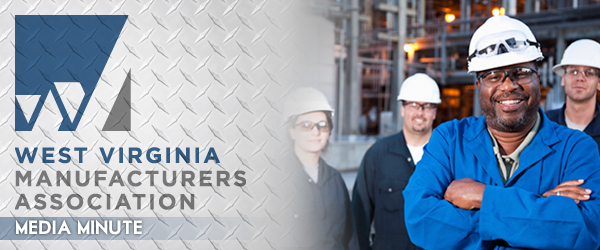 WVMA Media Minute
Media Minute— a weekly dispatch of local, national and world news impacting West Virginia's manufacturing industry.
West Virginia
Braskem America polypropylene plant in Texas on target for 2020 startup: CEO
Platts
Meantime, Nikolich said the company's potential petrochemical complex in West Virginia remains on hold pending progress on infrastructure, such as ...
Letter: Natural gas growth wonderful news forWest Virginia (Daily Mail)
Legislation introduced to help protect coal jobs, develop new technologies
Beckley Register-HeraldThese "critical minerals" are required for the manufacturing of commodities that are a mainstay in the lives of virtually all Americans. However, the ...
Developers to proceed with Greenbrier County barrel plant
WV News
... Gaylean, one of the founders of the West Virginia Great Barrel Company, a proposed manufacturingfacility to be located in White Sulphur Springs.
West Virginia takes action in response to work zone crashes
Clay Center Dispatch
CHARLESTON, W.Va. (AP) — West Virginia State Police say speed limits have been reduced and other measures have been taken in response to ...
Business Owners at Wheeling Roundtable Optimistic About Future After Tax Cuts
Wheeling Intelligencer
Those participating in the roundtable included Logan Hartle and Phillip Carl, of Warwood Tool; Scott Trimmer, operations manager for Eagle Manufacturing, in Wellsburg; and Bob Contraguerro Jr., of Panhandle Cleaning and Restoration, Wheeling. Also joining Jenkins were state Sens. Charles ...
Step Up for Women manufacturing program graduates first Bridgeport class
WDTV
HARRISON COUNTY, W.Va (WDTV) - Ten women are among the first to graduate from Bridgeport's Step Up for Women Advanced Manufacturing Pre-Apprenticeship Program, as they look ahead to a career in manufacturing. The 10-week program is a collaboration between West Virginia Women Work ...
Charlotte Weber: Talented students strengthen industry, and our economy (Daily Mail)
Charleston Gazette-Mail
West Virginia manufacturers, like those across the nation, face a widening skills gap. Workers often lack the technology skills that manufacturers increasingly demand. A 2015 report found that manufacturerssoon will need nearly 3.5 million skilled workers, but because of a skills shortage, 2 million of ...
Congressional candidates aim to boost southern WV economy
West Virginia MetroNews
If there's a mission the candidates for West Virginia's 3rd Congressional District might agree on, it's improving the economy of southern West Virginia. How to get there ... Ojeda, who served 25 years in the Army, said West Virginia needs to position itself for more manufacturing opportunities. "We know we ...
Addivant™ to Highlight Polymer Additives Innovations and Investment at NPE2018 in Orlando
GlobeNewswire (press release)
"Our manufacturing roots are in the U.S., so we continue to invest to ensure that we ... antioxidant at the Morgantown, West Virginia manufacturing facility. ... NAUGARD® polymerization inhibitors; and NAUGARD® rubber chemicals ...
United States
Jobs Return To The 'Rust Belt' Thanks To Shale
ValueWalk
The Shale Crescent USA Region is made up of the Ohio River Valley region in the states of Pennsylvania, Ohio and West Virginia. This is ... This major disruption is creating opportunity for the people of this Region and for the USA as companies from Asia and Europe look to relocate manufacturing and ...
Machinists Want Defense Department to Buy American
Bloomberg BNA
It wants all defense goods purchased from U.S. manufacturers. The Department of Defense told Bloomberg Law it doesn't comment on proposed ...
How Trumpworld is winging a trade war
Axios
Why this matters: Trump isn't just emboldened; he's unleashed — bringing the U.S. to the brink of a trade war at a breakneck pace. What's next: Free-traders like Kudlow hope to lower the temperature and avoid a tit-for-tat with China on tariffs that could be economically disastrous. But with Trump as ...
Tech Groups Warn of China Blowback on Tariff, Security Issues
Associations Now
Beyond the already announced steel tariffs, the Pentagon has prevented some Chinese technology manufacturers, including Huawei and ZTE, from selling their products on U.S. military bases. It's just the latest knock on the companies, whose products have been implied to be security threats and whose ...
US Plastics Resin Producers Set Circular Economy Goals To Recycle Or Recover 100% Of Plastic ...
PR Newswire (press release)
WASHINGTON, May 9, 2018 /PRNewswire-USNewswire/ -- The American Chemistry Council's (ACC) Plastics Division today announced three ...