Media Minute— a weekly dispatch of local, national and world news impacting West Virginia's manufacturing industry.
West Virginia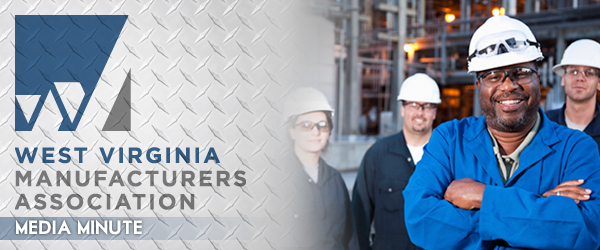 WVMA Media Minute
Media Minute— a weekly dispatch of local, national and world news impacting West Virginia's manufacturing industry.
West Virginia
WV utilities urged to lower rates due to tax reform
WBOY-TV
West Virginia utility companies were required to file plans with the Public Service Commission last week on their benefits from tax reform and their ...
Rep. Jenkins to Ignore Utility Request for Increases; REDUCE RATES
HNN Huntingtonnews.net
"Utility companies in all but two states – West Virginia and Tennessee ... their rates and pass along savings from the Tax Cuts & Jobs Act to consumers. ... West Virginia utility companies were required to file planswith the Public ...
Gazette editorial: We used to like tariffs, but the world has changed
Charleston Gazette-Mail
The people running the Toyota Motor Manufacturing West Virginia plant in Putnam County are worried about the tariffs. They referred Garland to a ...
After Trump tariffs, WV awaits fallout from trade partners
Charleston Gazette-Mail
Rebecca McPhail, president of the West Virginia Manufacturers Association, said she is still piecing together what the tariffs will do for industry in the ...
Rebecca McPhail: W.Va. minds must be open to business (Daily Mail)
Charleston Gazette-Mail
In West Virginia, manufacturers are taxed at levels higher than all but seven states for capital-intensive manufacturing, and at rates higher than only ...
Caught in the crosshairs of global trade policy
West Virginia Public Broadcasting
Over 12.5 million people in the United States work in the manufacturing sector. That's nearly 12 percent of U.S. GDP. So what we make and how make ...
United States
Unemployment Rate Drops To 3.8 Percent, Lowest Since 2000
West Virginia Public Broadcasting
Employers added another 223,000 positions last month alone, the Labor ... Factory jobs have grown by 259,000 in the past year, with most of the ...
American manufacturers cope with the loss of EU tariff exemptions
West Virginia Public Broadcasting
The Trump administration said today it would impose tariffs on steel and aluminum imports from the European Union, Canada and Mexico. Since the .
US Manufacturing Gathers Steam Under Trump: 5 Top Picks
Zacks.com
U.S. manufacturing sector is witnessing resurgence under the Trump administration since last year, shrugging off its long phase of weak productivity ...
World Bank warns US trade war could cause 2008-level crisis
The Guardian
Estimating risk of rising economic nationalism, the kind promoted by Donald Trump, the bank warned of 'severe consequences' for trade and growth.
Asian markets higher as US, China put trade war on hold
WPXI Pittsburgh
TRADE TALKS: The U.S. and China concluded their two days of trade ..... And while experts say a trade warremains a remote possibility, all of those ...
Trump to Meet Trade Advisers Over $70 Billion China Offer -Sources
U.S. News & World Report
The administration has said that a final list of goods to be tariffed would be issued next week and that Treasury plans to limit Chinese investment in the ...