Project with Randolph County Development Authority will add 85,000 square feet and improve distribution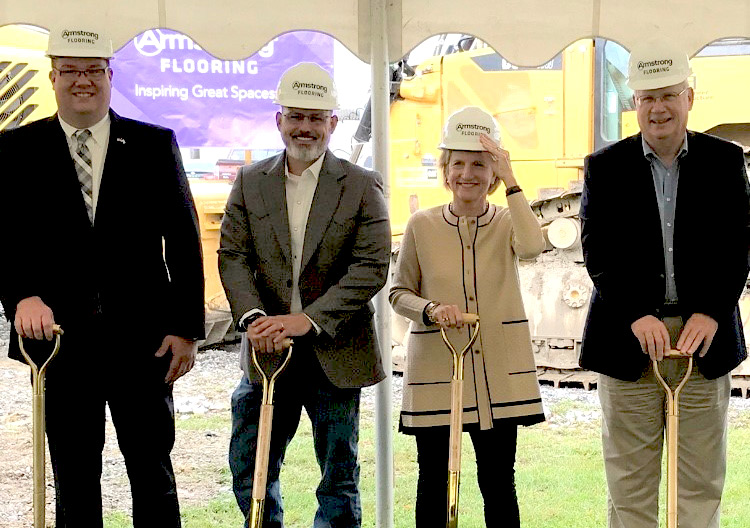 BEVERLY, West Virginia – Armstrong Flooring, Inc., held a groundbreaking on Monday, September 17, to begin work on an 85,000-square-foot expansion of its hardwood floor manufacturing facility in Beverly, WV.
Working in partnership with the Randolph County Development Authority, Armstrong Flooring plans to add a distribution center that will enable it to consolidate storage of finished flooring at the plant instead of shipping product to offsite warehouses. Additional space will also be available for potential future expansion of manufacturing capacity, and the project has the potential to create up to 50 new jobs in the next decade.
"We're excited to start this expansion project, which will enable us to consolidate and streamline the distribution process for our hardwood flooring products," said Blaine Emery, Armstrong Flooring Plant Manager in Beverly. "I'd like to thank the U.S. Economic Development Administration and West Virginia Economic Development Authority for their support of this project, and I'm grateful for the partnership and support of Robbie Morris and the Randolph County Development Authority, as well as the Randolph County Commission."
Opened in 1989 along Route 250 south of Beverly, the facility is the largest pre-finished hardwood flooring plant in the country. It produces flooring from oak, hickory and maple. The distribution center expansion is expected to be complete in fall 2019.
In the photo, from left, are Robbie Morris, Executive Director, Randolph County Development Authority; Blaine Emery, Armstrong Flooring Beverly Plant Manager; U.S. Senator Shelley Moore Capito; and Mike Taylor, Randolph County Commission President.
Armstrong Flooring, Inc. (NYSE: AFI) is a global leader in the design and manufacture of innovative flooring solutions that inspire spaces where people live, work, learn, heal and playSM. Headquartered in Lancaster, Pa., Armstrong Flooring is the #1 manufacturer of resilient and wood flooring products across North America. The company safely and responsibly operates 15 manufacturing facilities in three countries and employs approximately 3,500 individuals, all working together to provide the highest levels of service, quality and innovation to ensure it remains as strong and vital as its 150-year heritage. Learn more at www.armstrongflooring.com.