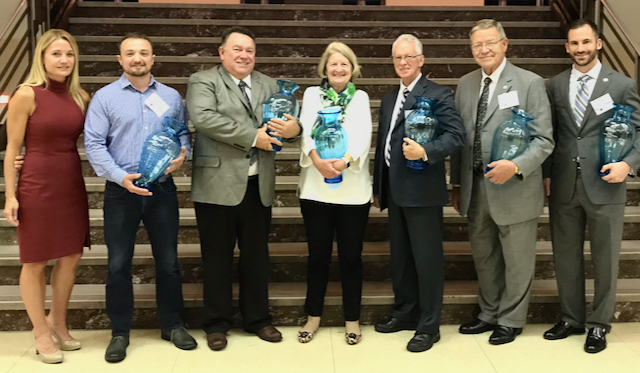 CHARLESTON, W.Va. – The West Virginia Manufacturers Association has honored legislators and industry professionals with its Champions of Industry awards.
"It's important for us to recognize those elected officials who not only support our policy agenda but go above and beyond to look out for the interests of West Virginia's manufacturers," said WVMA President Rebecca McPhail. "Too often legislators hear only the negative from their constituencies. We think highlighting the positive is even more important."
The awards were distributed Monday evening during the WVMA's annual Legislative All-State Dinner and Meeting, held at the University of Charleston.
"We also added a new award category this year to recognize a few WVMA members who took special interest in the legislative process and shared their stories with lawmakers to help put our policy goals in perspective," McPhail said.
The 2018 Champions of Industry Award winners are:
Sen. Ryan Ferns, R-Ohio
Sen. Ed Gaunch, R-Kanawha
Delegate John Shott, R-Mercer
Delegate Charlotte Lane, R-Kanawha
Logan Hartle of Warwood Tool Company
Jon Kimmel of Addivant
During the meeting, the WVMA also presented its latest report, "Primer on the Impacts of Taxing Business Machinery, Equipment, and Inventory," which was presented by Ted Abernathy of Economic Leadership LLC, a co-author of the report. Among its findings, the report determines that West Virginia's competitiveness for maintaining existing and attracting new manufacturers is potentially diminished by its continued taxing of business tangible property. The full report is available here.