Media Minute— a weekly dispatch of local, national and world news impacting West Virginia's manufacturing industry.
West Virginia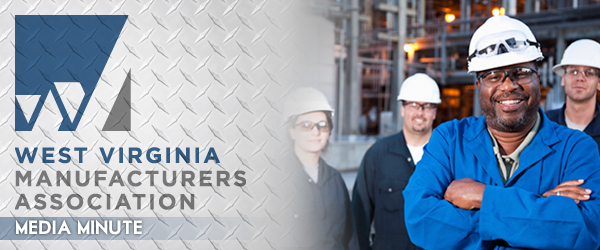 WVMA Media Minute
Media Minute— a weekly dispatch of local, national and world news impacting West Virginia's manufacturing industry.
West Virginia
MOV congressmen support Trump order on Trans-Pacific Partnership
Parkersburg News
"It is no secret that NAFTA has hurt manufacturing jobs in West Virginia and all across the country," Manchin said. "This trade agreement moved good ...
Stephen N. Reed: West Virginia needs a pitchman (Daily Mail)
Charleston Gazette-Mail (subscription)
Still, Justice has one advantage no West Virginia governor has had for decades. West Virginia is now a right-to-work state, thanks to legislation ...
Senate committee to examine taxes, look at eliminating income tax
West Virginia Record
"We must examine every method to improve the West Virginia economy, and that certainly will include comprehensive tax reform. Our focus is to create ...
Grant funds will help launch business incubator, officials say
Huntington Herald Dispatch
"The Appalachian Hatchery, a program of the Robert C. Byrd Institute, will serve manufacturers, entrepreneurs and other individuals in West Virginia's ...
Carmichael names select committee on tax reform
West Virginia MetroNews
"I'm going to appoint a special select committee on tax reform within the West Virginia Senate to analyze the manner in which we tax the citizens of ...
Italian manufacturer coming to Weirton
Huntington Herald Dispatch
WEIRTON, W.Va. - An Italian manufacturing company is moving forward with plans to invest $9 million toward a new facility on West Virginia's ...
Leading Business Organizations Have High Hopes for Legislative Session
The Exponent Telegram (press release) (registration)
The leaders of West Virginia's two largest business organizations have ... Membersof the West Virginia Manufacturers Association would like to see ...
United States
Automation Federation to present at this week's 2017 Workforce DevelopmentInstitute conference
InTech
It will bring together education leaders, manufacturing executives, and workforce and economic development experts from both government and ...
Trump Pulls US From Trans-Pacific Partnership
Chem.Info
The American Chemistry Council has been strongly supportive of the deal, saying that "future economic growth for the chemical sector depends on ...
Trump signs executive orders on manufacturing, infrastructure
Reuters
U.S. President Donald Trump signs an executive order to advance construction of the Keystone XL pipeline at the White House in Washington January ...
Trump to auto chiefs: environmental regulations 'out of control'
Chicago Tribune
President Donald Trump told the chief executives of the country's largest automobile manufacturers Tuesday that environmental regulations are "out of ...
Lithium-ion battery manufacturing to triple by 2020
Automotive World (press release)
Giant battery manufacturing plants are being built to serve rising demand in the electric vehicle (EV) segment. Many experts believe that this could ...
API welcomes President Trump's commitment to nation's energy infrastructure
PR Newswire (press release)
WASHINGTON, Jan. 24, 2017 /PRNewswire-USNewswire/ -- API President and CEO Jack Gerard released the following statement following the ...
Trump to Manufacturers: We'll Cut Regulations and Taxes
MFRTech (press release)
According to a study published by the National Association of Manufacturers (NAM), manufacturers face 297,696 restrictions on their operations from ...
Manufacturing Law Predictions for 2017: Labor and Employment
JD Supra (press release)
Expect to see the beginning of the roll-back on the pro-labor initiatives of the Obama-era. I do not expect to see a repeal of the NLRB's "Quickie ...
Samsung Announces Rigorous 8-Point Battery Safety Check To Avoid Another Galaxy Note 7-Like ...
Tech Times
"Since the Galaxy Note 7 recall, we've re-assessed every step of the smartphone manufacturing process and developed the 8-Point Battery Safety ...
US-China Trade Is About to Change—And It Has Nothing To Do with Trump
The National Interest Online
With the new Trump administration promising to alter the equation, bring manufacturing jobs back to the United States and generally make America ...
Plastics Industry Association Sees Strength in Industry Numbers
Plastics Technology
On Jan. 17, the National Association of Manufacturers (NAM) announced that Carteaux would serve as chair of the NAM's Council of Manufacturing ...