Media Minute— a weekly dispatch of local, national and world news impacting West Virginia's manufacturing industry.
West Virginia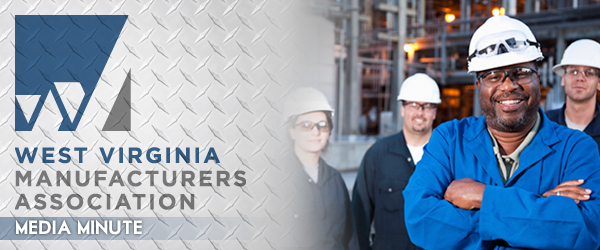 WVMA Media Minute
Media Minute— a weekly dispatch of local, national and world news impacting West Virginia's manufacturing industry.
West Virginia
Significant progress made at Procter & Gamble site
West Virginia MetroNews
The first piece of manufacturing equipment is set to arrive Monday. ... to hire local subcontracting companies from West Virginia and Maryland as well as ... As for filling in those manufacturing jobs, Procter & Gamble is not wasting any ...
State exhibit features Mister Bee potato chips
Parkersburg News
Potato chips flow down the conveyor at the Mister Bee plant on West Virginia ... The company in 1962 moved to West Virginia Avenue in Parkersburg ...
House, Senate leadership urge Justice to sign West Virginia budget
The Exponent Telegram (press release) (registration)
Justice had proposed a budget that included raising the state sales tax, ... If we do not fundamentally overhaul the current West Virginia tax structure, our ... aggressive but reasonable pathway to make tax reform an immediate reality," ...
Study looks at Toyota's contribution to West Virginia
Point Pleasant Register
The centerpiece of Toyota's presence in West Virginia is Toyota Motor Manufacturing West Virginia, Inc. (TMMWV) in Buffalo. The facility produced ...
Marijuana, Water Bills Approved by West Virginia Legislature
Wheeling Intelligencer
"Water quality standards are the safe levels of pollutants that are allowed in our streams," the West Virginia Manufacturers Association said, urging the ...
Mid-Ohio Valley lawmakers talk West Virginia budget, say Justice veto is likely
Parkersburg News
The tax reform issues died in the Senate and they ended up passing a $4.1 billion budget that included no tax increases. "It allows us to stay within our ...
House overrides Justice's veto on right-to-work law
West Virginia MetroNews
CHARLESTON, W.Va. — The West Virginia House of Delegates voted Friday to override Gov. Jim Justice's veto of changes to the state's right-to-work ...
The vision to move West Virginia forward to a place of prosperity
Beckley Register-Herald
West Virginia's successes include the attraction of three new companies including: Canadian manufacturer Bidell Gas Compression is bringing 131 ...
WVU Law initiative focuses on Appalachia legal issues
West Virginia Record
MORGANTOWN – The West Virginia University College of Law has ... WVU Law faculty on legal, economic, environmental and policy issues in West ...
Getting West Virginia Tax Reform Across the Goal Line
Tax Foundation
West Virginia legislators are working against the clock to enact tax reform this session, and to adopt a budget without going into overtime (special ...
Letter: Cutting size of government will not help WV (Gazette)
Charleston Gazette-Mail (subscription)
In West Virginia, the Republican-controlled Legislature is flirting with radical budget cuts and regressive tax reform. This is supposed to spur business ...
United States
America Has to Close the Workforce Skills Gap
BloombergQuint
Another example is the collaboration between Year Up, a national nonprofit workforce-development organization, and El Centro College, a community ...
Murphy proposes "American Jobs Matter Act" to bring back manufacturing jobsto the US
FOX 61
It's all part of the "American Jobs Matter Act" to get those manufacturing jobs back to the U.S. Murphy said the new act would require the Department of ...
Trump wants regulations streamlined into massive infrastructure bill
CanadianManufacturing.com
At the end of 2015, Obama signed a measure called the FAST Act. Its title stands for "Fixing America's Surface Transportation." In addition to providing ...
Tesla becomes most valuable US car maker, edges out GM
Reuters
N) on Monday to become the U.S. car maker with the largest market ... and Tesla's Nevada battery cell plant aimed at driving down manufacturing ...
US manufacturing jobs at 1940s levels
Toledo Blade
The glory days of manufacturing were the 1970s, when more than 19.5 ... A recent survey by the National Association of Manufacturers found that 93 ...
12392000: US Manufacturing Jobs Reach Highest Level in 8 Years
CNSNews.com
That is the greatest number of people employed in manufacturing in the United States since January 2009—the month that President Barack Obama ...