Media Minute— a weekly dispatch of local, national and world news impacting West Virginia's manufacturing industry.
West Virginia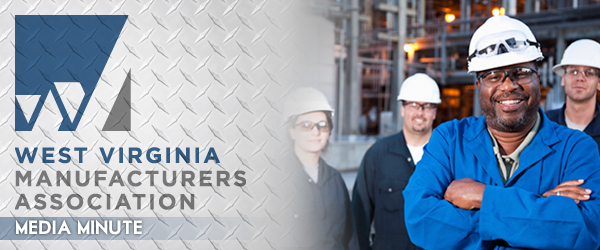 WVMA Media Minute
Media Minute— a weekly dispatch of local, national and world news impacting West Virginia's manufacturing industry.
West Virginia
State leaders react to CNBC ranking West Virginia worst for business
West Virginia Record
CHARLESTON – CNBC has ranked West Virginia as the worst state for ... new jobs will have been created in West Virginia, mostly in manufacturing.
Pass the Pork: West Virginia needs Byrd-style clout
Parkersburg News
What draws these small manufacturers, and the companies they supply, to Kentucky? A good workforce, proximity to raw materials and political ...
Letter: West Virginia as a Rolling Stones song (Gazette)
Charleston Gazette-Mail (subscription)
One side might not get their way on safety-net cutbacks, educational cutbacks and on tax reform and its plunge into the unknown. The other side might ...
Now we can measure economic policy uncertainty
West Virginia Public Broadcasting
Sure, many business owners out there are rooting for tax reform and hoping for fewer federal regulations. But they may also just want some ...
Jenkins updates business leaders on WV projects
Huntington Herald Dispatch
West Virginia's 3rd Congressional District is located in the southern portion of the ... "There will be $2.5 billion coming to West Virginia in federal funds to ... is a lot of work still to do on health care, an infrastructure bill and tax reform.
Morrisey launches bid for US Senate
Parkersburg News
West Virginia Attorney General Patrick Morrisey kicked of his campaign ... He talked about the need for major regulatory reform and tax reform.
Governor Justice blames lawmakers as report says West Virginia worst state for business
WVAH
"The West Virginia Legislature keeps twiddling their thumbs while our state continues to stay ... money, didn't reform the tax code, refused to help coal miners and crippled schools, making it difficult for people to be career ready.
STEM Summer Academy for Girls returns to WVU Tech this week
Beckley Register-Herald
With funding provided by Toyota Motor Manufacturing West Virginia, current and incoming female high school students are able to study and take ...
Appalachia joins the race for the multibillion-dollar petrochemicals boom
CNBC
But the American Chemistry Council and regional boosters believe states like Pennsylvania, Ohio, Kentucky and West Virginia are positioned to ...
Income tax unfair to working class
Martinsburg Journal
After working 40-50 years of their life and contributing money to taxes and social ... That's right, more people don't work than work in West Virginia.
Justice lauds jobs training initiative
Beckley Register-Herald
Martire, who went to college West Virginia Wesleyan, said he thinks this is ... "People had good jobs, but then the coal industry started to decline, the ...
Roxul to Build New Manufacturing Plant in West Virginia
Reliable Plant Magazine
Roxul recently announced plans to build a multi-million-dollar manufacturing facility in Ranson, West Virginia. The new plant will cover 460,000 ...
WSAZ Investigates: Where are the jobs?
WSAZ-TV
While Ohio is similar to West Virginia in that manufacturing is down, the state has shown significant growth in areas where West Virginia.
Ford reflects on trip to Japan
The Review
Pat Ford is reflecting on West Virginia's continuing relationship with Japan ... Twenty-one of those international companies are based in Japan, ...
Small-scale Logging Still Big Business in W.Va.
West Virginia Public Broadcasting
On this West Virginia Morning, most of the state's trees are harvested by ... Aircraft manufacturing has a long history in the Ohio Valley region stretching ...
Big cuts ahead for energy innovation programs
West Virginia Public Broadcasting
Aaron Palumbo looks into a furnace he helped develop in a lab on the University of Colorado campus in Boulder. His company, Big Blue ...
Lawmakers make case for hardwood industry sales tax reform
The Inter-Mountain
ELKINS — In the days leading to a final agreement concerning the state's budget and during intense debate concerning tax reform, West Virginia ...
Addivant Marks Expansion for Weston® 705 Antioxidant with Ribbon Cutting at Morgantown, W.Va ...
polymerupdate.com
... mark a multi million dollar expansion for its WESTON® 705 nonylphenol free antioxidant at the company'sMorgantown, W.Va. manufacturing facility.
Legislators share in budget frustrations
Huntington Herald Dispatch
The budget for the state of West Virginia was approved by lawmakers ... was Justice's comments that the stalling of the tax reform bill and the budget ...
Byrd Institute partners with ChalleNGe Academy for manufacturing training
The Exponent Telegram (press release) (registration)
... by securing employment and/or continuing to seek out opportunities through registered apprenticeships at manufacturers here in West Virginia." ...
Production of coal up slightly, but future unclear
The Daily Times
WHEELING — U.S. electricity producers burned about 110 million tons of West Virginia coal in 2007, but that number fell by 60 percent to about 44 ...
WVU Law professor: Energy efficiency jobs available if West Virginia wants them
West Virginia Record
"These include the manufacturing jobs associated with producing industrial energy efficiency products - taking advantage of West Virginia's strategic ...
McKinley shepherds Brownsfields legislation
West Virginia MetroNews
WASHINGTON, D.C. — West Virginia First District Congressman David ... McKinley pointed to Pietro Fiorentini, a natural gas supplier that broke ...