Media Minute— a weekly dispatch of local, national and world news impacting West Virginia's manufacturing industry.
West Virginia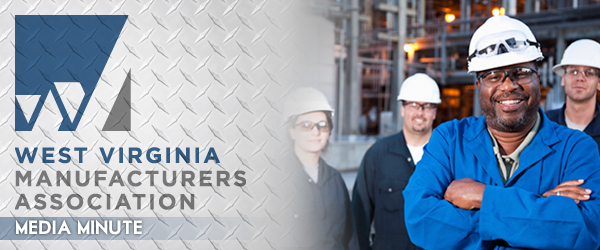 WVMA Media Minute
Media Minute— a weekly dispatch of local, national and world news impacting West Virginia's manufacturing industry.
West Virginia
Coal CEO expected White House help; Trump administration said no
CanadianManufacturing.com
Without FirstEnergy's plants burning his coal, Murray said his own company would be forced ... 3 conversation in Huntington, West Virginia, he said.
Northern Holds Oil and Gas Industry Seminar
Wetzel Chronicle
West Virginia Northern Community College's New Martinsville campus ... HIippensteel explained that most in the industry work a 12-hour schedule, ...
Eleven Graduate from Machining Pre-Apprenticeship Program for Women
Modern Machine Shop
The Step Up program, a partnership between West Virginia Women Work and ... The Step Up for Women Advanced Manufacturing Pre-Apprenticeship ...
Guest editorial (Huntington): Region needs to get serious about skills training (Daily Mail)
Charleston Gazette-Mail (subscription)
West Virginia, Ohio and Kentucky all have strong community and technical college networks, but too few students take advantage of those training ...
Striking a balance in Marcellus development
The Exponent Telegram (press release) (registration)
However, if we are not careful, West Virginia could miss out on the ... as the base stock for the plastics, chemical and various manufacturing industries. ... According to The State Journal, natural gas productionin West Virginia is not ...
US Rep. advocates for ethane storage
The Daily Times
WHEELING — Steel materials once made in the Ohio Valley are now giving way to ... Va., is among members of West Virginia's congressional delegation ... A final investment decision by PTT Global Chemical on whether to build an ...
Constellium Announces Plans To Move US Offices To Baltimore
Morningside Maryland Site (press release) (blog)
According to the company's website, it operates a total of 24 manufacturing locations, including its Ravenswood Plant in West Virginia, which houses ...
US Rep. Evan Jenkins Advocates For Ethane Storage Hub In The Mountain State
Wheeling Intelligencer
During a recent stop in the Northern Panhandle, he toured the Eagle Manufacturing Co. in Wellsburg, a maker of metal industrial products which now ...
Talbert Manufacturing recognizes top 10 dealers of 2016
Equipment World Magazine
Leslie Equipment Company, of Cowen, West Virginia, is a consistent top Talbert dealer that has provided quality construction, forestry, mining, and oil ...
W.Va.'s seasonally adjusted unemployment rate 4.7 percent in July
Beckley Register-Herald
West Virginia's not seasonally adjusted unemployment rate for last month ... Employment decreases included 1,100 in manufacturing; 2,700 in trade, ...
Democratic Sen. Joe Manchin staying out of Trump administration
CNN
Joe Manchin, a West Virginia Democrat, said Friday he will not join the ... and the GOP one more vote for big issues like health care and tax reform.
State leaders gather for listening tour on business, race relations in West Virginia
WTOV Steubenville
WEIRTON, W. Va. — How to bring business to Weirton and the state of race relations in West Virginia were just two of the topics brought up at a ...
United States
Business Groups Court White House Even After CEO Defections
New York Times
The National Association of Manufacturers is leading a campaign to drum up opposition to Mr. Garrett. And the Business Roundtable spoke out ...
EPA Given Additional Time to Ponder Next Steps on Clean Power Plan as Court Grants Another Stay
JD Supra (press release)
Reports from a late-July meeting between the U.S. Chamber of Commerce, the National Association of Manufacturers, the Office of Management and ...
In Solar Trade Dispute, Will Proposed Tariffs Cost Industry Jobs?
West Virginia Public Broadcasting
Mark Holohan, solar division manager at Wilson Electric, stands in his company's warehouse outside Phoenix, Ariz. Solar installers say a proposed ...