Media Minute— a weekly dispatch of local, national and world news impacting West Virginia's manufacturing industry.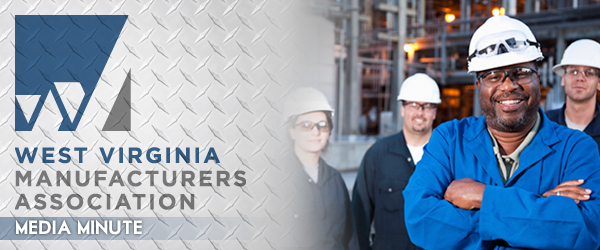 WVMA Media Minute
Media Minute— a weekly dispatch of local, national and world news impacting West Virginia's manufacturing industry.
Women in Manufacturing: Profiles in Leadership
IndustryWeek
They are creating jobs, building the newest products and shattering the ... They include the president of Toyota Motor Manufacturing (WV), the vice ...
Pruett signs proposal to repeal Clean Power Plan
West Virginia MetroNews
The policy, which was finalized in 2015, would have reduced carbon ... Chris Hamilton, senior vice president of the West Virginia Coal Association, said ... the law, which includes the March executive order asking the EPA to review ...
Truck Maker Hino to Relocate Within West Virginia
Ward's Auto
Hino, the truck- and bus-manufacturing subsidiary of Toyota, is investing $100 million in the new operation, which will create an estimated 250 new ...
Scientists say cost of capturing CO2 declining, but still chief obstacle
CanadianManufacturing.com
MORGANTOWN, W.Va.—Technology now in limited use removes about 90 per cent of carbon dioxide from the smokestacks of coal-fired power plants, ...
Huntington Chamber seminar to explain WV's 'right-to-work' act
Huntington Herald Dispatch
"Following a recent decision by the West Virginia Supreme Court of Appeals, right-to-work is now law in West Virginia and causes significant changes ...
Growing local economies
The Inter-Mountain
After onerous regulations targeted West Virginia for nearly a decade, it's no surprise ... Between 2011 and 2015, these communities lost jobs and businesses ... Armstrong Flooring is the largest manufacturingemployer in Randolph ...
UPDATE: High hopes for West Virginia Road Bond after voter passage
The News Center
Whether it is or not, West Virginia is getting ready to sell bond to pay for ... manufacturing, economic development and investment," Parsons says.
On EPA greenhouse rules, Trump again hits 'repeal and replace' problem
Charleston Gazette-Mail
In West Virginia, political leaders on Monday and Tuesday were celebrating ... But experts on the law and policy surrounding climate change say the ...
An optimistic eye toward W.Va.'s economic future
The Exponent Telegram (press release)
The state's lead economist, John Deskins of West Virginia University, ... will create the ability to diversify the state's manufacturing base by providing ...
Hampshire County small business owner highlighted in Capito call for tax reforms
West Virginia MetroNews
Coming up this week, Capito will lead a business roundtable in Charleston about how tax reforms could benefit West Virginia workers and job creators ...
W.Va. Toyota's Curry says manufacturing needs more young people
The Exponent Telegram (press release)
At that time, Toyota had just one other vehicle manufacturing plant in the U.S. — located in Georgetown, Kentucky — and the West Virginia engine ...
Hino Motors WV team receives recognition in Japan
Parkersburg News
Hino Motors WV team receives recognition in Japan ... Photo Provided Williamstown-based Hino Motors WVreceived recognition last month for ... Five members of the Williamstown Hino Motors Manufacturing plant were invited to ...
Ensure Tax Reform Helps Small Businesses, Too
Wheeling Intelligencer
Tax reform should work as much for the residents and businesses of West Virginia and Ohio as it does for Wall Street and Silicon Valley. To ensure it ...
McKinley opposes House budget, but quiet on why
Charleston Gazette-Mail
"This represents the first step in advancing tax reform, clearing the way for legislation that will make our tax system fairer and simpler for West Virginia's ...
West Virginia Makes Festival celebrates creativity
Huntington Herald Dispatch
Lori Wolfe/The Herald-Dispatch Madison Erwin of Huntington talks about the R2-D2 Builders Club to those attending the 4th annual West Virginia ...
P&G's first phase of largest construction site in W.Va. complete in 3 months
The Exponent Telegram (press release)
Many have worked in manufacturing jobs in other places. ... The Berkeley County facility is West Virginia'sfirst plant, and only the company's second ...
Will 48000 jobs really result from the WV road bond?
West Virginia MetroNews
Jim Justice has promised 48,000 jobs as a result of increased highways ... West Virginia voters go to the polls Saturday to approve or reject the road bond .... but what are the service and manufacturing jobsrelated to the purchase?
Trump hosts manufacturers as tax reform faces first hurdle in Congress
Fox Business
Trump will be joined by executives and workers from companies headquartered in West Virginia – a manufacturing state led by Democratic Sen.
West Virginia, Ohio reps largely back budget bill, tax reforms
Parkersburg News
WASHINGTON — A 2018 budget resolution that sets up tax reforms for the president was adopted Thursday in the House of Representatives with two ...
Economist sees rebound but weak growth in WV
Huntington Herald Dispatch
Courtesy of West Virginia University John Deskins speaks on West Virginia's ... The forecast sees the recent upturn in coal production and related jobs ...
Thrasher, Division of Commerce have state's economy trucking toward brighter future
The Exponent Telegram (press release)
Led by the efforts of Commerce Secretary Woody Thrasher and other state officials, West Virginia'sblossoming automobile manufacturing component ...
WV economy has been rallying, but continued growth is predicted to be slow
West Virginia MetroNews
The good news is, West Virginia's economic rebound is picking up. ... Construction and manufacturinggrowth are expected in the state's economic ...
Eagle Manufacturing workers on stage with Trump for tax talk
The Daily Times
WELLSBURG — The importance of West Virginia manufacturing was on display Friday in Washington, D.C., as seven employees from area ...