Media Minute— a weekly dispatch of local, national and world news impacting West Virginia's manufacturing industry.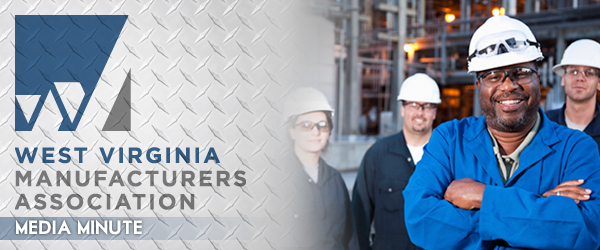 WVMA Media Minute
Media Minute— a weekly dispatch of local, national and world news impacting West Virginia's manufacturing industry.
W.Va., China Energy sign $83 billion shale gas, chemical manufacturingagreement
Beckley Register-Herald
President Donald J. Trump, seated, and Chinese President Xi Jinping, seated at right rear, watch as West Virginia Secretary of Commerce H. Wood ...
Interview with West Virginia Senator Joe Manchin: Tax Reform
WJLA
EDITOR'S NOTE: Boris Epshteyn formerly served as a Senior Advisor to the Trump Campaign and served in the White House as Special Assistant to ...
W.Va. senators disagree on tax reform plan
The Dominion Post
The U.S. Senate leadership plans to introduce its version of a tax reform plan Nov. 9. And West Virginia'stwo senators, who often team on pro-West ...
US Sen. Joe Manchin: Tax Plan Doesn't Benefit The Middle Class
Wheeling Intelligencer
"Tax reform is absolutely essential to helping West Virginia families, small businesses and communities recover and grow again," she said. "Doing ...
Tax bill nixes federal historic tax credit
Huntington Herald Dispatch
The West Virginia Legislature last month voted to increase the state's ... its historic tax credit, but then the U.S. House tax reform bill threw a curve ball.
Kingsford Charcoal, Walmart Recognize Nearly 60 Years of Manufacturing in Parsons, West Virginia
PR Newswire (press release)
PARSONS, W.Va., Nov. 9, 2017 /PRNewswire/ -- Today, Kingsford Charcoal, a fixture in backyard celebrations and family gatherings for nearly 100 ...
North Central West Virginia projected to lead state in entrepreneurship
The Exponent Telegram (press release)
Wednesday's conference saw representatives from West Virginia University, the state Department of ... "We just don't have other sectors like manufacturing or tourism that are growing to help offset some of the losses in coal.
West Virginia technical students to work on state parks
WVAH
West Virginia technical students to work on state parks ... West Virginia education and parks officials have signed a compact ... All rights reserved.
West Virginia's energy outlook changing, adapting
The Exponent Telegram (press release)
You realize that noise meant work was happening, so I'm really elated coal is ... He said West Virginia'scoal production "is going to be largely dependent on the ... "I think one of the big stories of the state of energy in West Virginia is ...
NCWV poised for economic growth through diversification and entrepreneurship
The Exponent Telegram (press release)
The North Central West Virginia Economic Outlook Conference, ... level of production while the state's southern mines have shed jobs as demand for ...
Boeing buys Manassas plane designer
WTOP
It also has manufacturing facilities in Bridgeport, West Virginia and Columbus, Mississippi, with other offices in Dayton, Ohio and Mountain View, ...
Hino Trucks plans new truck plant
Tank Transport Trader (press release)
Hino Trucks will manufacture a new line of Class 7 and 8 trucks at an assembly plant in West Virginia, starting in 2019, company officials announced ...
Capito takes part in Senate GOP tax reform press conference
West Virginia MetroNews
WASHINGTON, D.C. — U.S. Senator Shelley Moore Capito (R-W.Va.) says she's confident the Senate can pass a tax reform bill by the end of the year.
Capito, Manchin split on proposed tax overhaul
Huntington Herald Dispatch
"(Treasury Secretary Steven) Mnuchin came to West Virginia and we had a small-business roundtable," Capito said. "The enthusiasm of our ...
Limiting Damage Caused by Abusive Class-Action Lawsuits
Wheeling Intelligencer
Manufacturing is essential to West Virginia's economy, providing tens of ... But there's an import that threatens these West Virginia companies: Class ... McPhail is executive director of the West Virginia Manufacturers Association.
Alliance urges Manchin, Capito to support preservation incentives
West Virginia Explorer
Specialized developers in West Virginia, including members of the alliance, are concerned that tax reformsproposed by Congress could reduce ...
A Tale of Two Tech Parks: South Charleston, I-79 technology parks different as they are similar
The Exponent Telegram (press release)
In comparison with the I-79 Technology Park, the West Virginia Regional ... In all, the park has about 950,000 square feet of manufacturing facilities, ... the Chemical Alliance Zone economic development group, chemical company ...
Wellsburg Primary hears of science in life
The Daily Times
Scott Trimmer, operations engineer with Eagle Manufacturing, told the children how 3-D printers are being used to create a wide variety of items, from ...
Making sure W.Va. is career ready
Beckley Register-Herald
Panelists were Chris Beam, president and COO of Appalachian Power; Matt Oliver, HR assistant manager of Toyota Motor Manufacturing WV In...
Scott Rotruck: Summit shows best of WV to business leaders
Charleston Gazette-Mail
One of my favorite events every year is the West Virginia Chamber of ... Further, Mylan has remained committed to U.S. manufacturing, making nearly ...
West Virginia University President E. Gordon Gee Pushing 'West VirginiaForward'
Wheeling Intelligencer
Photo by Joselyn King West Virginia University President E. Gordon Gee relaxes during ... to craft legislation focusing on tax reform and getting state government "right-sized. ... We have structural problems in terms of our tax system.
Armacell moving to former Mustang Survival site
Parkersburg News
A news release from the West Virginia Department of Commerce says Armacell, ... The company employs 70 people locally and will add 23 jobs in the next ... Mustang Survival, a Canada-based survival apparel manufacturer, started ...
West Virginia businesses honored by Gov. Justice for exporting to new markets
The Exponent Telegram (press release)
CHARLESTON — Harrison and Marion County businesses were among the 34 companies to receive the Governor's Commendation for International ...
West Virginia delegation's thoughts on tax plan
Beckley Register-Herald
"President Trump has made tax reform one of his top priorities, and for good reason. Our current tax code costs us jobs, keeps money out of people's ...
EPA to hold hearing on climate plan repeal in West Virginia
WPXI Pittsburgh
WASHINGTON (AP) - The Trump administration announced Thursday it will hold a public hearing in West Virginia on its plan to nullify an Obama-era ...
Women's manufacturing class coming to Bridgeport
WDTV
BRIDGEPORT, W.Va. (WDTV) -- A group that has worked to help women have financial security is starting a class in Harrison County. West Virginia ...
Fifth Annual West Virginia Education Summit Personalizing Career Readiness in West Virginia
HNN Huntingtonnews.net
Fifth Annual West Virginia Education Summit Personalizing Career ... AT&T; Bowles Rice LLP; The Dow Chemical Company, FirstEnergy Foundation; ...
Thrasher, Paine predict W.Va. growth — and increased workforce needs
West Virginia MetroNews
"Even the fundamental construction and manufacturing jobs have a high ... Thrasher said West Virginia is already at work to change its own image.
WV employers say they have job openings but they need adaptable, drug-free workforce
West Virginia MetroNews
Some of the most prominent employers in West Virginia say they're hiring ... Toyota's Oliver said the manufacturing facility in Buffalo is in expansion ...