Media Minute— a weekly dispatch of local, national and world news impacting West Virginia's manufacturing industry.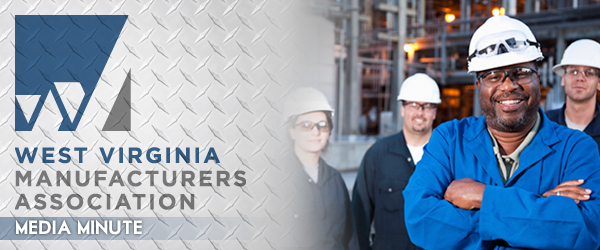 WVMA Media Minute
Media Minute— a weekly dispatch of local, national and world news impacting West Virginia's manufacturing industry.
WV Gov. Justice: China Energy $83.7B Agreement Means Jobs for State
Newsmax
WV Gov. Justice: China Energy $83.7B Agreement Means Jobs for State ... that tie back to natural gas, and tie back into the petrochemical industry.".
Could tax reform lead to millionaire tax flight?
West Virginia Public Broadcasting
While the details of the tax reform have yet to be hammered out by the U.S. Congress, some state and local officials are worried that instead of a ...
Blue Collar Jobs In US' Rust Belt Have Fallen By 0.15 Percent Since January – Analysis
Eurasia Review
In manufacturing, Iowa gained 2,200 jobs in October for a 1.02 percent increase. This was followed by Wisconsin at 0.71 percent and West Virginia at 0.66 percent. New York continued to shed manufacturingjobs with employment decreasing by 0.39 percent or 1,700 jobs. This falloff may be coming to ...
Op-Ed: Massive Chinese Investment Pledge Could be Game Changer for W.Va. – If it Happens
West Virginia Public Broadcasting
West Virginia's Commerce Department said the energy Goliath's investment would focus on "shale gas development and chemical manufacturing ...
Tax reform benefits West Virginia and the country
West Virginia MetroNews
It has taken three decades, but the Congress is finally close to passing comprehensive and badly needed tax reform. The House of Representatives passed its version last week, while the Senate is expected to vote soon on its plan. The Senate vote is going to be tight. Republicans have just a two vote ...
Conrad Lucas, America's youngest GOP chairman, is running for Congress inWest Virginia
Washington Examiner
The chairman also pays close attention to news coverage on tax and healthcare reform. He claims that these two issues are incredibly important to the people of West Virginia, and promises to fight for principled, conservative change if elected. "We need to simplify the tax system in America and change it ...
Scalph among West Virginia county reps to visit White House
The Fayette Tribune
Sen. Shelley Moore Capito (R-W.Va.) joined the group to discuss the federal budget, tax reform, economic development and other legislative activity ...
Senate Should OK Tax Relief
Wheeling Intelligencer
Members of the U.S. House of Representatives approved a tax reform bill last week. ... Va., cited research showing that in West Virginia, the average ...
Employers look beyond specific skills in filling new jobs
The Exponent Telegram (press release)
Matt Oliver, assistant human resources manager for Toyota Motor Manufacturing West Virginia in Putnam County, said Toyota hires 10 to 15 people a month. Toyota is committed to diversity, but diversity is an advantage only if diverse people can work on a team, he said. "We're looking for people who ...
Significant investment
Bluefield Daily Telegraph
The memorandum of understanding was signed by West Virginia State ... The projects will focus on power generation, chemical manufacturing and ... will result in unprecedented job growth and investment in West Virginia." We, too ...
Timing of Pleasants Power Station transfer decision still unknown
The Exponent Telegram (press release)
Meanwhile, the recent memorandum of understanding signed by the West Virginia Department of Commerce and China Energy Investment Corp. for the Chinese company to invest $83.7 billion in shale gas development and chemical manufacturing projects in West Virginia has been said to include the ...
More about China Energy, West Virginia's enormous new trading partner
West Virginia MetroNews
West Virginia's newest, biggest global trading partner is partially-state owned and recently took its place as the world's largest power company.
Taking Some Risks in W.Va.
Wheeling Intelligencer
We need to do better than for the state as a whole to tread water while tens of thousands of our fellow WestVirginians are drowning. We need to make structural changes in how we do things. That may mean tax reform. It certainly ought to mean making our government more efficient at all levels — and ...
Apprenticeship program expands in West Virginia
Huntington Herald Dispatch
Lori Wolfe/The Herald-Dispatch Charlotte Weber, director of the Robert C. Byrd Institute, speaks during an event at RCBI on Thursday, Nov. 16, 2017, in Huntington. The event was held to honor West Virginia manufacturers that have launched apprenticeship programs with the assistance of ...
WV company gains recognition from its own industry after US Supreme Court victory
West Virginia MetroNews
CHARLESTON, W.Va. — A West Virginia company that was a focal point of a landmark U.S. Supreme Court ruling is being recognized within its industry. Impression Products of Charleston, which recycles printer cartridges originally made by Lexmark, was on the winning side of a unanimous Supreme ...
Gazette editorial: WV hoping China Energy will be a dream come true
Charleston Gazette-Mail
China Energy Investment Corp. plans to invest in "shale gas development and chemical manufacturingprojects" in West Virginia over the next 20 years, according to the state Commerce Department. The projects "will focus on power generation, chemical manufacturing, and underground storage of ...
Officials get preview of insulation plant in Ranson, W.Va.
Herald-Mail Media
... W.Va., will run around the clock with three shifts. At peak production times, up to 100 tractor-trailer trucks will enter and leave the plant daily, he said. He said the new plant will generate about $5 million for the local economy through secondary jobs. Roxul has a second stone-wool manufacturing plant ...
Financing for planned Greenbrier synthetic fuel plant moves forward
Charleston Gazette-Mail
A company planning to build a $73 million synthetic fuel plant in Greenbrier County took another step forward in financing its development Thursday, as the West Virginia Economic Development Authority approved two items to help advance the plant's construction. The items approved by the WVEDA at ...
W.Va. stands to profit from global energy shift
Front Page
(AP) –– Last week's big announcement of a potential $83.7 billion investment from a China-owned energy company for shale gas and chemical ...
West Virginia editorial roundup
Wetzel Chronicle
But why in West Virginia, and why now? The reasons for this ... The state is right to aggressively work to capitalize on its good geological fortune.
Chinese investment in West Virginia could include PE resin
Plastics News
A major Chinese investment in West Virginia's energy industry could ... A second petrochemicals site in southeastern Ohio also may be developed.