Media Minute— a weekly dispatch of local, national and world news impacting West Virginia's manufacturing industry.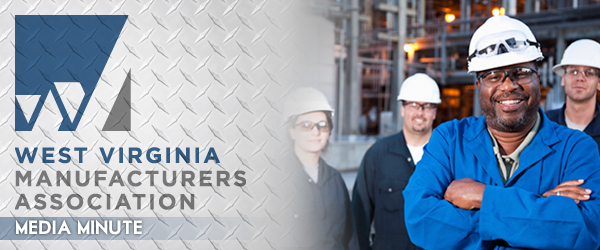 WVMA Media Minute
Media Minute— a weekly dispatch of local, national and world news impacting West Virginia's manufacturing industry.
Ten Steps to Attract, Retain Qualified Workers in 2018
Construction Equipment Guide (press release) (blog)
Finding, developing and retaining tomorrow's skilled workforce is one of the most significant challenges facing manufacturers today. According to Rusty McCarty, CEO of CustomEd, a nonprofit organization that provides customized educational programming for cause-based initiatives, there are a ...
The big and bold change West Virginia needs
Point Pleasant Register
Whether I'm at a roundtable discussion or the grocery store, so many West Virginians have shared with me what tax reform would mean for them and their families. After more than three decades of dealing with an outdated and complicated tax code, Congress finally delivered this long overdue reform ...
State tax reform to be narrowed in 2018 session
West Virginia MetroNews
CHARLESTON, W.Va. — Efforts to reform taxes in West Virginia will take on a different tone in the coming legislative session. After numerous proposals to make big changes to income and sales tax structures failed to pass state lawmakers plan to focus their efforts on eliminating one specific tax in 2018, ...
Gazette editorial: Sen. Manchin deserves thanks
Charleston Gazette-Mail
Manchin added: "You can't call this tax reform." More than most states, West Virginia needs Social Security, Medicare, federal college scholarships, CHIP and other programs that give people a chance at education, employment and health. Republicans would sabotage this safety net, just to give tax ...
Looming Bombardier decision concerns WV politicians, airport officials
Charleston Gazette-Mail
With Bombardier's commercial aircraft service center in Bridgeport employing hundreds, West Virginiapoliticians and airport officials have unsurprisingly spoken out about a trade dispute that could end in major tariffs imposed on the Canadian company. Boeing, the Chicago-based aircraft manufacturing ...
US Rep. Evan Jenkins: The new tax plan will help West Virginia
Williamson Daily News
Help is on the way - on Tuesday, I proudly voted in the House to pass the Tax Cuts & Jobs Act, a landmark, once-in-a-generation tax reform bill. West Virginia is on the verge of an economic revival, as our state's economy has turned the corner this year and even has one of the highest growth rates in the ...
Experts: Natural gas prices low, uptick in production expected
WDTV
Anne Blankenship, executive director of the West Virginia Oil and Natural Gas Association, says natural gas prices haven't been this low since 1976. ... of Understanding with the state Department of Commerce for almost $84 billion in shale gas development and chemical manufacturing projects in The ...
Chris Hamilton: Potential for West Virginia growth off the charts (Daily Mail)
Charleston Gazette-Mail
The Great Barrel Company announced plans to build a 90,000-square-foot manufacturing facility and use West Virginia's hardwoods to produce oak barrels for distillers. Hino Motors is relocating its truck assembly plant in Wood County and will add 250 manufacturing jobs. Bidell Gas Compression ...
WV EDA delays barrel company loan decision
Charleston Gazette-Mail
The state Economic Development Authority on Thursday postponed its decision on final approval of a loan to West Virginia Great Barrel Company, saying the company is still working to finalize a matching loan to help finance its planned Greenbrier County operations. EDA members moved the decision ...
West Virginia delegation comments on GOP tax bill passage
Beckley Register-Herald
While West Virginia's congressional Republican's lauded th etax reform bill that sailed Congress, lone Democrat Sen Joe Manchin raised concerns about adding to the nation's debt and not doing enough to help middle-class and lower-income families. The tax bill, which is the first major overhaul of U.S. ...
Bringing artificial intelligence to the factory floor
West Virginia Public Broadcasting
He was the founder of the artificial intelligence research project Google Brain. And his latest company is called Landing.AI. The startup has partnered with the electronics manufacturing giant Foxconn, as well as other companies in Japan, Taiwan, and mainland China to bring more AI into the ...