Media Minute— a weekly dispatch of local, national and world news impacting West Virginia's manufacturing industry.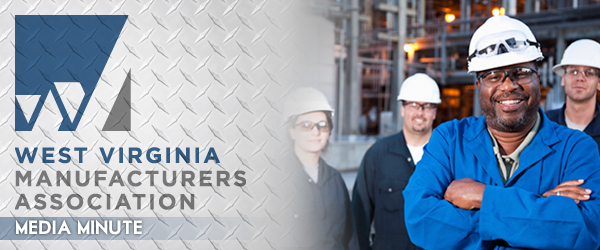 WVMA Media Minute
Media Minute— a weekly dispatch of local, national and world news impacting West Virginia's manufacturing industry.
Appalachian Underground Natural Gas Storage Hub Clears Initial Hurdle
West Virginia Public Broadcasting
David McKinley of West Virginia, who hope to attract the project to their home state. In November, state officials announced an agreement with China Energy Investment Corp. Ltd. for the company to invest $83.7 billion in shale gas development and chemical manufacturing in West Virginia over 20 years.
Daily Mail editorial: Optimism abounds for West Virginia's future
Charleston Gazette-Mail
The year 2018 begins in West Virginia with the economic outlook looking brighter than at any time in recent history. ... What's more, 2017 also saw many announcements from major companies about investments to grow jobs, including Toyota Motor Manufacturing of West Virginia and Hino Motors.
US Coal Mining Deaths Surge In 2017 After Hitting Record Low
Manufacturing.net
West Virginia has led the nation in coal mining deaths in six of the past eight years. That includes 2010, when 29 miners were killed in an explosion at the Upper Big Branch mine in southern West Virginia. In September, President Donald Trump appointed retired coal company executive David Zatezalo ...
Appalachia underground natural gas storage clears 1st test
Seattle Times
Joe Manchin, D-W.Va., speaks about tax reform on Capitol Hill in Washington. ... David McKinley of West Virginia, who hope to attract the project to their home state. ... Ltd. for the company to invest $83.7 billion in shale gas development and chemical manufacturing in West Virginia over 20 years. Part of ...
Marion Co. legislators prepare for upcoming session
WV News
With the 2018 West Virginia Legislative Session scheduled to begin next week, Marion County's representatives have their own plans, ideas and concerns for their community. ... "They passed the so-called Right to Work bill, and they have reduced wages for our friends in the construction industry.
Area business leaders predicting a bright year ahead
Observer-Reporter
Barron P. (Pat) McCune, CEO, CB Financial Services Inc.: The bank holding company for Carmichaels-based Community Bank is looking forward to completing its $49 million acquisition of Wheeling, W.Va.-based First West Virginia Bancorp, the holding company for Progressive Bank. The deal, which ...
Editorial: Utilities' tax-cut savings should be shared with ratepayers
Huntington Herald Dispatch
Customers of regulated, for-profit utility companies that supply electric, gas and water could benefit from the corporate tax cut under the tax reform ... The West Virginia Public Service Commission has been slower to act. ... If the West Virginia PSC doesn't make that happen, it is falling down on the job.
Guest editorial (Wheeling): WV lawmakers to try once more on tax reform
Charleston Gazette-Mail
Some members of the West Virginia Legislature may have enjoyed a few grim, knowing smiles during the past several weeks, as they watched work on a federal tax reform bill. Been there, struggled with that, they may have thought. Conservatives have attempted during the past two regular sessions of ...
Analysis: Pleasants deal would cost WV manufacturers, schools and hospitals
Charleston Gazette-Mail
As Mon Power and Potomac Edison await approval to buy a Pleasants County power plant, an analysis backed by opposition parties says manufacturers, schools and hospitals in West Virginia will have to pay about $230 million more on their utility bills over 15 years if the deal goes through. Technical ...
2017 brought many key business developments
Huntington Herald Dispatch
In October, coal industry groups and various West Virginia government officials hailed the Trump Administration's plan to repeal former President Barack Obama's Clean ... Ltd. for the company to invest $83.7 billion in shale gas development and chemical manufacturing in West Virginia over 20 years.
Outmigration – Moving W.Va. Forward
Beckley Register-Herald
Jim Justice believes the passage of the $1.6 billion road bond referendum and an agreement with China Energy Investment Corp., the world's largest power company, to invest $83.7 billion in shale gas, power and chemical projects in West Virginia, are game-changers. Senate President Mitc
Trying Once More On Tax Reforms
Wheeling Intelligencer
And, it may be easier to get the House of Delegates, state Senate and Gov. Jim Justice — now a Republican after starting his term as a Democrat — to agree, Ferns thinks. Let us hope so. Tax reform is one need that makes it more difficult to expand West Virginia's economy. There are other challenges, ...
Forklift donated to West Virginia food bank
WSAZ-TV
MCDOWELL COUNTY, W.Va. (WVVA) -- A Beckley food bank is able to those less fortunate now thanks in part to a new forklift donation. Toyota Manufacturing of West Virginia donated a forklift to the Five Loaves & Two Fishes Food Bank in McDowell County Friday. U.S. Senator Joe Manchin and West ...
Justice: State going in right direction
Martinsburg Journal
"This road thing will bring manufacturing, and it will bring tourism out the ying yang." Improving West Virginia's infrastructure is also critical to drawing new residents to the state, Justice said. "For God sakes, people can't even get to West Virginia, and once you get to West Virginia, it's difficult to get out of ...
Historic Tax Credit saved
Martinsburg Journal
In the U.S. House of Representatives' version of the recently approved tax reform bill, the HTC program was eliminated. It was retained in the Senate version, but reportedly, at a reduced rate. Led by Rep. David McKinley, R-W.Va., who represents West Virginia's 1st Congressional district, the tax credit ...
Trump says West Virginia "is doing fantastically now." It's not.
New Republic
The president essentially proclaimed himself West Virginia's coal messiah in an interview with the New York Times on Thursday. "I'm the one that saved coal," he said. "I'm the one that created jobs. You know West Virginia is doing fantastically now." The interviewer, reporter Michael S. Schmidt, did not ...
WV lawmakers return to brighter outlook
Williamson Daily News
... resorts and farms, says West Virginia's economic turnaround has started, citing major road projects that he, lawmakers and voters backed, some recent corporate expansions in the state and plans by Chinese investors to spend almost $84 billion in natural gas, chemical production and other ventures ...
Corporate tax cuts could lead to lower utility bills
Huntington Herald Dispatch
Homeowners around the U.S. stand to save billions of dollars from utility rate reductions following the recent passage of federal tax reform legislation. ... CHARLESTON — West Virginia regulators are still evaluating the new federal tax law and its implications for utilities and their customers, with an eye ...
WV Attorney General Morrisey Releases End-of-Year Review
HNN Huntingtonnews.net
"This year was filled with monumental victories for the people of West Virginia," Attorney General Morrisey said. "We adopted a series of new initiatives ... Secured a decision by the state Supreme Court of Appeals that allowed the state's right-to-work law to take effect. Fought to protect the lives of unborn ...
Unemployment rate in all 55 West Virginia counties increase in November
The Daily Democrat
Smith said the dramatic story for Louisiana employment has been in the downstream refining and petrochemical sector, which is where the new capital expenditures are occurring. "The tight labor force supply will likely have the effect of moderating the growth rates we have seen for the past few years", ...
West Virginia editorial roundup
Sacramento Bee
"This is the first time in the history of the United States that we ever started out negotiating tax reformassuming we would add another $1.5 trillion of debt to the already staggering debt we have as a nation." Manchin added: "You can't call this tax reform." More than most states, West Virginia needs Social ...
Pre-payment of 2018 county property taxes not permissible
Beckley Register-Herald
Under West Virginia law, county sheriffs issue property tax bills, or "tickets," on or after July 15 of the property tax year. (Only public utility operating property is excluded, and the state auditor issues those taxbills in June of the property tax year.) Property taxes levied for the property are payable in two ...
Inventory tax debate heating up
West Virginia MetroNews
Carper said Republicans rushed through the federal tax reform bill without any hearings and the majority at the Statehouse may try to do the same with the ... Eliminating the inventory tax is one of the top priorities heading into the session for the West Virginia Chamber of Commerce, president Steve ...
Looking ahead to 2018 US Senate, House races
West Virginia MetroNews
CHARLESTON, W.Va. — When President Donald Trump was inaugurated in January, Republicans had already been in control of both congressional chambers for more than two weeks. Conservative control over the federal government was extended to the Supreme Court in April when the Senate ...