Media Minute— a weekly dispatch of local, national and world news impacting West Virginia's manufacturing industry.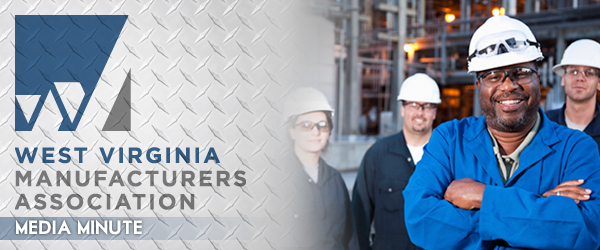 WVMA Media Minute
Media Minute— a weekly dispatch of local, national and world news impacting West Virginia's manufacturing industry.
Thrasher gives update on China development deal
WV News
CHARLESTON — State Commerce Secretary Woody Thrasher says dirt could be flying this year in connection with an $83.7 billion deal with China to help develop West Virginia's petrochemical industry. "Like anything of that magnitude, you have to do everything one step at a time," Thrasher told ...
West Virginia Legislature to gavel into first day of session
Beckley Register-Herald
CHARLESTON — The West Virginia Legislature will gavel in the first day of its 60-day regular session Wednesday with education and tax reform legislation ... While lawmakers from the House Committee on Finance and the Joint Committee on Tax Reform said they do not anticipate legislation to change ...
Capito talks children's health insurance, tax changes
Record Delta
West Virginia has said it will end CHIP by Feb. 28 if the GOP-controlled Congress doesn't approve funding for the program, which is nationwide. Capito also defended the tax reform bill and explained how she believes it can help West Virginians. "I voted for tax reform," she said. "I believe in tax reform ...
Sen. Shelley Capito Says Biggest Challenge for GOP Is Keeping Donald Trump Focused on His Job
Wheeling Intelligencer
The new law will allow 83 percent of West Virginians to file their returns without taking any itemizations, while families with children will see their child tax credits double. Ninety-four percent of West Virginia businesses are considered small businesses, which also will see higher returns from tax reform, ...
Legislature taking aim on inventory tax
The Daily Times
... by the West Virginia Press Association at the Charleston Gazette-Mail offices. Lawmakers convene for their 60-day regular session on Wednesday. "I agree … that the inventory tax is the most onerous tax we have," said Sen. Ed Gaunch, R-Kanawha, chairman of the Joint Committee on Tax Reform.
Natural gas on radar on radar in West Virginia
Parkersburg News
CHARLESTON — With a massive reserve of natural gas underground, an anticipated $84 billion investment by a Chinese company and continued questions over how resources will be extracted, oil and natural gas will likely be a significant topic in the West Virginia Legislature's 2018 session.
Capito tours Sogefi, talks tax reform
Huntington Herald Dispatch
Va., toured the expanded Allevard Sogefi USA Inc. facility Friday and spoke with employees about tax reform and the positive effects it could have on ... the tour of Sogefi allow her to not only see firsthand the businesses in the state, but also be generally informed about what's going on in West Virginia.
Panelists: Business inventory tax cut on 2018 WV legislative agenda
Charleston Gazette-Mail
Panelists: Business inventory tax cut on 2018 WV legislative agenda ... West Virginia is one of 10 states that tax business inventory. ... Nelson said he believes major tax reform issues should be addressed in special session or during legislative interim meetings, not during the 60-day regular session.
Daily Mail editorial: Plans for a natural gas liquids storage hub clear a first big step
Charleston Gazette-Mail
Plans for an underground natural gas liquids storage hub pegged as a major job creator for the chemical industry in Appalachia have cleared their first big hurdle, the Associated Press reported Wednesday. That's great news for a potential rebirth of a petrochemical industry in West Virginia and ...
Low unemployment straining industries like manufacturing
CNBC
Since 2010, 90 students like Brooks have graduated from the program and have been offered full-time positions at the company, and 144 students are currently enrolled in the programs curriculum at partner schools in Indiana, Illinois, Ohio and West Virginia. "My senior year of high school, everybody's ...
The Trump administration looks to create natural gas hub in coal country
SteelGuru
Manchin said that "This storage hub will create jobs and develop our economy by attracting significant manufacturing and related investment to West Virginia and our neighboring states. It will also be vital in helping to secure our energy future by providing a reliable affordable supply of natural gas ...
Optimism abounds for state's future
Beckley Register-Herald
Combined with a leveraging of federal dollars and a planned increase in turnpike tolls that will pay for other road bonds, West Virginia will undertake one ... 2017 also saw many announcements from major companies about investments to grow jobs, including Toyota Motor Manufacturing of West Virginia ...
Sen. Blair: 'Things getting better' for West Virginia
Keyser Mineral Daily News Tribune
"There's another decade worth of reform and change for West Virginia," said Blair, noting that he is excited as a parent and a businessman that ... "We've repealed hundreds of sets of regulations in West Virginia," said Trump, adding that West Virginia is now a right to work state and officials have ...