Media Minute— a weekly dispatch of local, national and world news impacting West Virginia's manufacturing industry.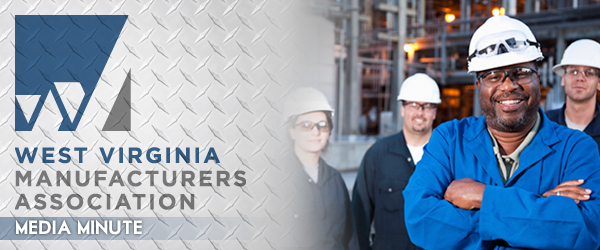 WVMA Media Minute
Media Minute— a weekly dispatch of local, national and world news impacting West Virginia's manufacturing industry.
Vice President Pence announces West Virginia visit to equipment business
WSAZ-TV
CHARLESTON, W.Va. (WSAZ) -- Vice President Mike Pence will be making a trip to West Virginia to talk economic progress and tax reform. Sen. Shelley Moore Capito, R-W.Va., made the announced Tuesday with Rep. Evan Jenkins, R-W.Va., that the vice president will visit West Virginia on Wednesday.
Senate unanimously passes community college bill
West Virginia MetroNews
The state Senate unanimously passed a bill meant to provide financial support for West Virginia students in community college and vocational programs ... students to receive the vocational or technical training they may need for emerging jobs in industries such as natural gas or chemical manufacturing.
Three ways the Rust Belt can reinvent itself
Morgan County Herald
It extends from New York to Pennsylvania, West Virginia and Ohio, and includes smaller areas of Maryland, Kentucky, Tennessee, and Virginia. ... "It makes more sense to manufacture petrochemicals here than it does in many other places like the Gulf Coast, because the feed stocks are here," Kozera ...
West Virginia-based company brings facility to Claremore
Tulsa World
"We are honored to have joined many outstanding partners, including the City of Claremore, the Tulsa Regional Chamber and the Oklahoma Department of Commerce, in aiding BelGAS FM during the launch of its new manufacturing facility," John Feary, executive director of the Claremore Industrial and ...
Carmichael: Federal tax reform, proposed elimination of inventory tax will benefit state
West Virginia MetroNews
CHARLESTON, W.Va. — Senate President Mitch Carmichael, R-Jackson, said the federal Tax Cuts and Jobs Act was a strong first step in making West Virginia businesses more competitive, adding he believes the West Virginia Legislature's proposal to cut the personal property tax on business ...
WV solar industry keeps on sunny side following Trump tariff decision
Charleston Gazette-Mail
West Virginia's solar energy industry players expect solar panels will soon be a bit costlier, at least for the next few years, as a result of President Donald ... "The final ruling did not have as much of a tariff as the petition asked for, but what they got will preserve some manufacturing jobs," McKechnie said.
NASA, RCBI bring robotics competition to area students
Huntington Herald Dispatch
"The skill level required in manufacturing is much higher than it used to be," Friel said, noting companiesneed more skilled workers to fill advanced ... The competition is tough - Casto said teams from West Virginiahave won all three of NASA's national robotics competitions in the past three years, ...
Former Massey CEO puts UBB blame on MSHA; outlines positions at campaign town all
Beckley Register-Herald
He added that he is in favor of making the state a "Right to Work" state so that unions cannot require workers to pay union fees. West Virginia did pass a right to work law in 2016, but it has been in litigation and has not been implement. Blankenship saidhe favors increasing American steel production to ...
Cancer Research Classic Provided $1.5M Boost to Wheeling Economy
Wheeling Intelligencer
The CRC's other sponsors are the Ogden Newspapers, Pikewood Creative, Wheeling Jesuit University, Nike, Panhandle Cleaning & Restoration, Civil & Environmental Consultants Inc., Buffalo Wild Wings, Domino's, Eagle Manufacturing, Oglebay Resort & Conference Center, Ohio County Commission, ...
Sen. Joe Manchin: I hope Trump's tax reforms work
Fox News
NEIL CAVUTO, "YOUR WORLD" HOST: With us right now, West Virginia Democratic Senator Joe Manchin. And, Senator, I was thinking of you when he was talking up the economy and these markets and everything else and the tax cuts that seem to be bearing dividends from companies like Starbucks ...
Letter: Economic growth critical to West Virginia's comeback story (Daily Mail)
Charleston Gazette-Mail
West Virginia is one of only 10 states that taxes business inventory. The repeal of this tax — which may be the state's single biggest hindrance to economic development, along with federal tax reform — will be an important push forward in creating jobs and a big hand in getting more West Virginians back ...
'I'm Hoping I'm Wrong': Manchin Praises Economic Outlook AfterTax Law No-Vote
Fox News Insider
West Virginia Sen. Joe Manchin III (D) said he's willing to work with President Trump "any way I can," even though he voted against the GOP's tax reform law. "I'm hoping I'm wrong," he said about his vote. Manchin said that he liked the idea of President Ronald Reagan's tax cuts because they had the ...
Walmart to Raise Wages, Provides Bonus for WV Associates
WOWK
"The West Virginia Retailers Association applauds the efforts of our federal representatives who supported meaningful tax reform," said Retailers Association President Bridget Lambert. "It's a good day when retail employees in our state benefit from public policy initiatives that result in larger paychecks ...
IOGA Winter Meeting highlights new developments
WV News
Hall said the plan is to wind down West Virginia's inventory tax over a span of seven years. As for why the Legislature simply doesn't repeal it, ... Donald Nestor, CPA for Arnett Carbis Toothman, addressed the conference on the matter of federal tax reform. He said that while the changes aren't perfect, ...