Media Minute— a weekly dispatch of local, national and world news impacting West Virginia's manufacturing industry.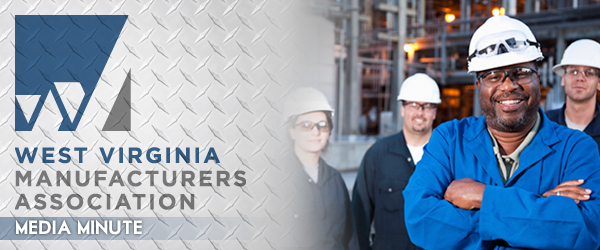 WVMA Media Minute
Media Minute— a weekly dispatch of local, national and world news impacting West Virginia's manufacturing industry.
Pence seeks revenge against Manchin
Politico
... told Pence last August he could not vote for the latest plan to repeal Obamacare but was committed to working on a bipartisan tax cut bill, according to Manchin and administration sources familiar with the private conversation, which took place at a tax reform event in the mountains of West Virginia.
Garrett Ballengee: Businesses respond to tax cuts (Daily Mail)
Charleston Gazette-Mail
It is giving its U.S. workforce, including its 12,500 employees in West Virginia, $1,000 bonuses and raising its base wage to $11 an hour. ... Americans for Tax Reform, the number is now well over 300 – and as all employees see their paychecks rise from less federal withholding, opposition to tax cuts will ...
Manchin signs pledge to not campaign against fellow senators
West Virginia MetroNews
During a visit to West Virginia last week, Vice President Mike Pence called Manchin out for voting against the GOP tax reform plan. Manchin responded the next day on MetroNews "Talkline" saying Pence's remarks are an example of why "Washington sucks." Manchin said in his Tuesday floor speech it's ...
EPA paves way for WV DEP to enforce state water quality standards
Charleston Gazette-Mail
The federal U.S. Environmental Protection Agency has given the West Virginia Department of Environmental Protection the green light to regulate the way the state enforces water ... Rebecca McPhail, president of the West Virginia Manufacturers Association, said the EPA's approval came as no surprise.
Moundsville, while in decline, has never been nearly as bad as the picture of rusting hell Mr. Trump ...
America Magazine
With fewer skills in the workforce, companies hesitate to invest in manufacturing plants and instead create service jobs that require minimal job training and skills. ... One is an artist in Kansas City, one an F.B.I. agent in eastern West Virginia, and one works in technology in California. "If you go to Kansas ...
WV Congressmen Say Opioid Epidemic Highest Priority
West Virginia Public Broadcasting
Indiana started charging Medicaid recipients premiums under the Obama administration and both Kentucky and Indiana have been granted the ability to impose work requirements for those in the program. West Virginia officials said the state is in the planning stages to apply for the right to impose work ...
W.Va. state auditor: tax cuts to save state employees collective $50 million per year
WV News
"As our state slowly turns a financial corner, federal tax reform should provide a needed boost, adding more than $50 million into the pockets of our amazing state workforce and thus back into the state's economy. This is money that will be spent in West Virginia small businesses, who we know are the ...
Gurkee's sandal company succeeds and thrives in West Virginia
WV News
Through trials and triumphs, Ray Sickles, owner of Gurkee's Rope Sandals, brought the company to West Virginia and has continued to succeed in the footwear industry. (www.gurkees.com). Through his experience, Sickles has four pieces of advice that he thinks will help entrepreneurs who want to do ...
Letter: Inventory tax removal will benefit West Virginia (Daily Mail)
Charleston Gazette-Mail
West Virginia Manufacturing Association members report that they will utilize the savings resulting from the phase out of this tax to invest in new equipment and technology, and to hire new workers. This initiative will help manufacturers in every part of the state, from small tool makers and craft brewers to ...
Troy Thomas: Phaseout of business tax will aid WV economy
Huntington Herald Dispatch
Automotive parts manufacturing is a capital intensive industry and requires advanced technology that changes and requires constant updating. In West Virginia, we are taxed on all the inventory we carry, the machinery we use to manufacture our products and the property on which we conduct our ...
Removing tax good policy for West Virginia
Parkersburg News
Chemours, created on July 1, 2015 as a spinoff from DuPont's performance chemicals businesses, is a world leader in titanium technologies, fluoroproducts, and chemical solutions. We operate two manufacturing facilities in West Virginia, which employ approximately 1,500 people. Our operations in ...
Community Colleges Are Changing the Way We Develop Our Workforce
West Virginia Public Broadcasting
According to the West Virginia Higher Education Policy Commission, jobs in manufacturing, IT, and health care are all in demand in the state – and to be qualified for those jobs, several only need a degree or certification from a CTC. Musselman High School senior Alexandria Cox wants to be a nurse.
Trump Comes to West Virginia, Gives Republicans Pep Talk at The Greenbrier
Wheeling Intelligencer
WHITE SULPHUR SPRINGS, W.Va. (AP) — Congressional Republicans in sweater vests and fleece gathered at a West Virginia resort Thursday in search of a winning election-year agenda, facing the notion that the best they have to offer in 2018 may be a recitation of the tax cuts approved in 2017 and ...
Community Colleges Are Changing the Way We Develop Our Workforce
West Virginia Public Broadcasting
The main goal of the bill is to cultivate a strong workforce in West Virginia by making education at community and technical colleges more accessible. .... In the Eastern Panhandle, Blue Ridge provides training for careers in cyber security, software development, manufacturing and health care. "Really ...
Officials: Amendment needed to remove 'Greatest Impediment' to W.Va. Economy
Beckley Register-Herald
"Whether it's a two-person fabrication shop or a $5 billion chemical operation, this is an issue. We've seen it ... Following the meeting Rebecca R. McPhail, president of the West Virginia Manufacturers Association, expressed the organization's position to the West Virginia Press Association: "The WVMA ...