Media Minute— a weekly dispatch of local, national and world news impacting West Virginia's manufacturing industry.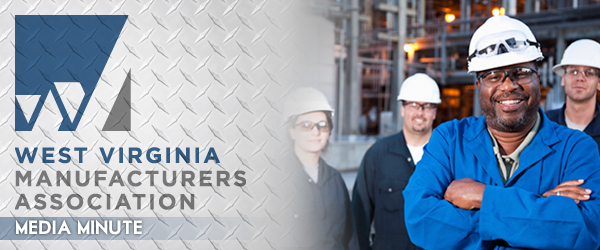 WVMA Media Minute
Media Minute— a weekly dispatch of local, national and world news impacting West Virginia's manufacturing industry.
The Next Great, High-Tech Career? Manufacturing
Fox and Hounds Daily
Their work has helped JUST make delicious, affordable meals for people from Marin County to McDowell County, West Virginia. There is a myth that technology comes at the expense of manufacturing jobs. In fact, the opposite is true: we can't fill all the positions science has created. Right now ...
Senator Shelley Moore Capito visits Gilmer County industry
WBOY-TV
GLENVILLE, W.Va. - Senator Shelley Moore Capito began a tour through West Virginia in Gilmer County Tuesday afternoon. At her first stop, Capito visited Flying W Plastics in Glenville for a tour of its operations. Capito highlighted the benefits for companies like Flying W from federal tax reform and ...
New Princeton manufacturer hosts ribbon cutting
Bluefield Daily Telegraph
"Let's say to outfit West Virginia in one year, employ 18 five-person crews. That's 90 people employed for one year, not counting truck drivers, secretaries, custodians, etc.," Circle said. "Using that 10 percent figure, 49 other states in the U.S. times 100 people employed equals about half a century of work ...
Bidell ships first unit from Weirton
The Daily Times
The company currently has 35 direct employees, and will be adding 10 more this week, he said. "Bidell is committed to hiring local people," Welch said. Welch said the company is working with West VirginiaNorthern Community College, the John D. Rockefeller IV Career Center, the Robert C. Byrd ...
Letter: Remove the business inventory tax
Charleston Gazette-Mail
I am encouraged by the efforts taking place to improve West Virginia's business climate and am hopeful the West Virginia Legislature passes the "Just Cut Taxes and Win" amendment. This legislation would help small manufacturers, like my company, by removing the property tax on business equipment ...
WV Construction Trades Job Fair attracts hundreds of applicants for Roads to Prosperity projects
The Fayette Tribune
"We want to maximize their abilities to land a career in the construction industry," said Mike Clowser, executive director of the Contractor's Association of West Virginia. "We had a great turnout," Clowser added. "This gives our members a wonderful opportunity to talk to people looking to make a career in ...
Robust aerospace industry is one of West Virginia's greatest strengths
WV News
A key factor in the growth of this industry has much to do with the North Central West Virginia Airport (CKB) and the many aerospace-manufacturing businesses that surround it. Energy has and always will be an important aspect of West Virginia's economic livelihood, but there is ample opportunity for ...
Greenbrier County considers joining Hardwood Alliance Zone
Beckley Register-Herald
The West Virginia Hardwood Alliance Zone (WVHAZ) is both a geographic region in the densely forested east-central portion of the state and an economic development organization founded in 2001 to increase value-added hardwood manufacturing and processing companies within the region. With the ...
Tom O'Neill: Bills would remove tax on multi-owner planes, obstacle to jobs
Charleston Gazette-Mail
In North Central West Virginia, the aerospace industry is taking off and soaring, much like the products that companies Bombardier and Pratt & Whitney manufacture. However, there is one key factor keeping some areas of this industry on the ground. Currently in West Virginia, there is an existing sales ...
Thumbs Up, Thumbs Down
Parkersburg News
DOWN: To news that a West Virginia company that makes equipment for coal mining and other industries is leaving the state … and bringing 60 jobs to Virginia, instead. If a company that makes equipment for the natural resource industries cannot keep a manufacturing operation in Beckley, W.Va., and ...
Cogar VP says company's presence in Raleigh County will remain strong
Beckley Register-Herald
While Cogar Manufacturing is expanding and moving its corporate office into Giles County, Va., it will keep a strong base in West Virginia, the company vice-president said Thursday. Cogar, a manufacturer of material handling equipment, primarily for the natural resources industry, is based in Glen White ...
Q&A: What's Next for W.Va.'s China Energy Deal?
West Virginia Public Broadcasting
China Energy's investment portfolio that they had proposed to the state of West Virginia includes a number of different projects and all of these projects are in various stages of development, as has been announced. It includes natural gas power plants, as well as a chemical manufacturing facilities and ...
TMMK event urges students, parents to consider manufacturing
News- Graphic
From left, NAM President and CEO Jay Timmons, Toyota Motor Manufacturing, West Virginia President Leah Curry, Gov. Matt Bevin, engineer for quality control of future models Lindsey Grandy, senior engineer in production engineering Jared Cooms, Assistant Manager of Lexus body weld at TMMK ...