Media Minute— a weekly dispatch of local, national and world news impacting West Virginia's manufacturing industry.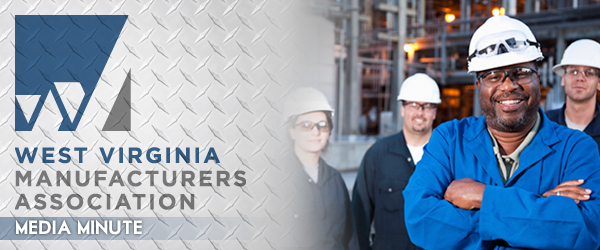 WVMA Media Minute
Media Minute— a weekly dispatch of local, national and world news impacting West Virginia's manufacturing industry.
Manufacturers group worries about bill to allow guns in parking lots
West Virginia MetroNews
CHARLESTON, W.Va. — Legislation which would allow workers to keep firearms locked in their vehicles while at their place of work, appears to have traction in the legislature, but it's not winning the support of a large group of West Virginia employers. The West Virginia Manufacturers Association is ...
Here are the states most threatened by steel tariffs
MarketWatch
And if those companies suffer, so could workers. MarketWatch analyzed state-level employment in industry groups connected to trade in those commodities. An effort to save the 139,000 jobs that produce steel and aluminum could put about 6 million jobs at risk in industries that buy and use a lot of the ...
Finding Funds
The Inter-Mountain
Then, West Virginia legislators will have to come up with money — lots of it — to pay for whatever the settlement costs. Gov. Jim Justice's office is not likely to be much help. ... The governor is right about one thing: Tax reform at the federal level should help West Virginia. And yes, the $1.6 billion highway ...
West Virginia's Striking Teachers Are The Key To Building A Post-Coal Economy
Fast Company
On Thursday, February 22, thousands of public school teachers in all 55 counties in West Virginia walked out of their classrooms in protest over low .... could make to create more funding for teachers and healthcare, and they involve raising taxes on coal, natural gas, and manufacturing corporations, ...
We have what the Japanese need, Could it help our teachers?
WV News
We want them to use our natural gas to create long-term, career-oriented construction and manufacturing jobs. West Virginia, Eastern Ohio and Western Pennsylvania have been branded as the Shale Crescent USA in order to compete with the U.S. Gulf Coast. The Shale Crescent USA is now producing ...
High-tech jobs no longer unusual in Huntington
WV News
"That might have meant losing a growing company to another state, but HADCO helped convince them to stay in West Virginia and open a new larger office on Third Avenue in the River Tower West," he said. Huntington's high-tech jobs are by no means limited to the Information Technology sector.
Is the West Virginia teachers' strike the future of American labor?
CNN
In West Virginia, a so-called "right to work" state, the public sector unions are already prohibited from requiring agency fees and hard-pressed to negotiate contracts, a set of rules that left the teachers in this current fight with little lawful recourse when the state repeatedly refused to meet their demands.
Howard Swint: WV can return as nation's powerhouse
Charleston Gazette-Mail
Accordingly, existing West Virginia power plants can not only provide the "base-load" required to further advance the integration of wind- and solar-based ... founded upon a network of ethane storage facilities, all the while supplying the state's existing propane-based chemical manufacturing value chain.
State leaders tout regional shale opportunities to Japan's petrochemical industry
WV News
Riley agreed the Japanese companies were interested in the opportunities available in West Virginia, "specifically in the downstream petrochemical market sector." He said creating jobs and economic drivers in West Virginia is crucial, and said foreign direct investment is one way to help achieve it.
Hundreds take advantage of West Virginia Job and Resource Fair opportunities
Beckley Register-Herald
SOUTH CHARLESTON — If all goes as expected, some unemployed or underemployed West Virginians this week may be starting new careers as early as next week. That's the report from a few of the participating businesses at the South Charleston Regional Job and Resource Fair, held Friday at ...
P&G gears up new $500M plant
Cincinnati Business Courier
Procter & Gamble Co. began manufacturing Bounce dryer sheets at its new $500 million plant in West Virginia last week, and hundreds of jobs will be added as the company ramps up production of other brands. The Cincinnati-based maker of consumer goods (NYSE: PG) now employs 330 at the plant ...
AK Steel Applauds the Trump Administration's Announced Plans to Issue Tariffs on Imported Steel ...
GlobeNewswire (press release)
WEST CHESTER, Ohio, March 01, 2018 (GLOBE NEWSWIRE) -- AK Steel (NYSE:AKS) said that the company supports President Trump's ... 9,200 employees at manufacturing operations across seven states (Alabama, Indiana, Kentucky, Michigan, Ohio, Pennsylvania and West Virginia), as well as in ...
US Rep. Jenkins: Eastern Panhandle is in good economic position
Martinsburg Journal
"It's time to grow good jobs in our state," Jenkins said. "Here in West ... "My focus was on job creation — on economic development and competitiveness," Jenkins said. ... Jenkins would like West Virginia to again be a competitive manufacturing hub, something federal infrastructure funds could help start.