Media Minute— a weekly dispatch of local, national and world news impacting West Virginia's manufacturing industry.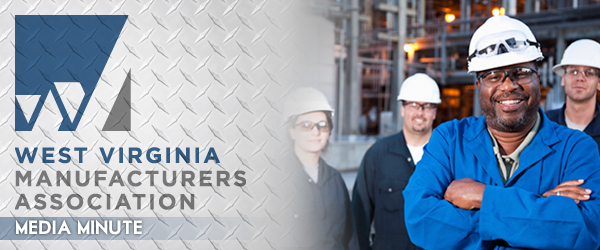 WVMA Media Minute
Media Minute— a weekly dispatch of local, national and world news impacting West Virginia's manufacturing industry.
Justrite acquires West Virginia-based Eagle Manufacturing Company
Control Design
Established in 1894 and based in Wellsburg, West Virgina, Eagle has experience in industrial safety and material handling products. ... Eddy has been named an executive vice president in the Justrite Safety Group, leading the North American chemical safety business, which will include the Justrite ...
Today's manufacturing requires new job skills
WV News
"For too long, manufacturing has carried the stigma of only offering jobs requiring low-skill and intense labor," said Rebeccas McPhail, president of the West Virginia Manufacturers Association (WVMA). "Automation and technology have transformed manufacturing, altering the skills needed to operate ...
W.Va. seeing upswing in manufacturing jobs
WV News
And Hino announced it will spend $100 million to expand its truck manufacturing operations in West Virginia, relocating its operations from Williamstown to the former Coldwater Creek distribution center in Parkersburg. The new plant will have about 300 jobs to start, with another 250 jobs to be added by ...
Business news in brief
Huntington Herald Dispatch
"For more than 25 years, RCBI has served West Virginia manufacturers not only by providing technical assistance and expertise, but by helping them become prime contractors and links in the federal supply chain," said Charlotte Weber, RCBI director and CEO. "By partnering with Professional Services ...
Sen. Shelley Moore Capito: Senator: Tax reform is working for West Virginia
Huntington Herald Dispatch
Tax reform is working, and Americans across the country - including right here in West Virginia-are already seeing the benefits. We're not talking about hypothetical situations or anticipated outcomes. We're talking about real, concrete examples of how the new tax law is helping workers, famili, and small ..
P&G hiring escalates to 900, plant impacts the entire region
WV News
Bowen says P&G's manufacturing plant will have a far-reaching impact on the economy. "Certainly, the establishment of the P&G plant in West Virginia is a major economical boost for the Eastern Panhandle and the entire state," Bowen said. Bowen said P&G's moving some of its product into West .
Sen. Manchin's storage hub bill approved by Senate committee Thursday
WV News
A regional storage hub could help ensure optimization of domestic energy resources while attracting manufacturing investment and creating jobs, Manchin said. "The Appalachian Storage Hub will allow West Virginia and its neighbors to realize the unique opportunities associated with Appalachia's ...
President of Toyota talks growth at KCDC luncheon
Vincennes Sun Commercial
Sun-Commercial photo by Jess Cohen | Millie Marshall, president of the Princeton Toyota plant, speaks about the Advanced Manufacturing Technician Program, a partnership with Vincennes University, that ... She previously served at the helm of a Toyota manufacturing facility in Buffalo, West Virginia.