Media Minute— a weekly dispatch of local, national and world news impacting West Virginia's manufacturing industry.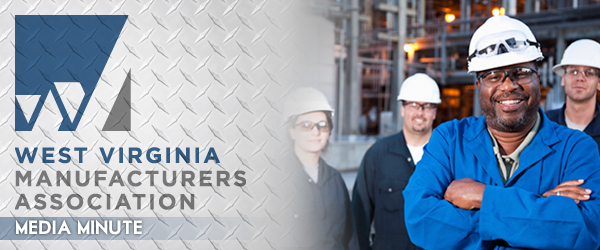 WVMA Media Minute
Media Minute— a weekly dispatch of local, national and world news impacting West Virginia's manufacturing industry.
Next W.Va. representative must put state first
Huntington Herald Dispatch
It's not empty campaign-trail rhetoric - it's a clear demonstration that I am serious about draining the establishment swamp and fighting diligently against any and all tax and fee increases on hard-working West Virginians. I'm not a politician and I don't want to be one, I simply want to build a West Virginia ...
WSAZ hosts debate between top 3 GOP candidates for US Senate seat in W.Va.
WSAZ-TV
HUNTINGTON, W.Va. (WSAZ) -- Coal, jobs, the opioid epidemic, tax reform and the legalization of marijuana were among topics debated Tuesday among the top three Republican candidates for the U.S. Senate seat in West Virginia. The live, hour-long, commercial-free debate on WSAZ's First Look at 4 ...
West Virginia executive order expected to smooth permitting for downstream projects
Platts
An executive order issued by West Virginia Governor Jim Justice to expedite the permitting of "projects of critical economic concern" is expected to speed ... Burd cited proposed intrastate pipeline projects as the most likely beneficiaries of the order, as well as any industrial and chemical manufacturing ...
Local mayors meet with lawmakers on Capitol Hill
WTRF
... manufacturing jobs, but they also want lawmkaers to focus on problems small communities face. Weirton Mayor Harold Miller said he worries about contaminated land. "To cleanup brownfield sites and to start businesses that may be available to bring to their communities." West Virginia mayors have ...
Forecast is sunny for business
West Virginia Public Broadcasting
The National Association for Business Economics quarterly survey of corporate economists finds U.S. businesses are very upbeat about growth for the rest of this year. But those strong hiring plans and expectations of rising sales and profits are set against the realities of a rapidly tightening labor market.
The rise of a new labor movement
Beckley Register-Herald
While admittedly not exactly parallel, the tactics of mass demonstrations for labor relations actions have a history in West Virginia, particularly with coal miners. An example was the Miners Right-to-Strike movement in the 1970s. In this instance, the 1974 UMWA/BCOA contract established the Arbitration ...
Howard Swint: Ethane, too, can fuel West Virginia (Daily Mail)
Charleston Gazette-Mail
Accordingly, just as propane helped create the chemical industry in the Kanawha Valley, ethane also holds the potential to reorder not only West Virginia's ... industry. The Marcellus and Utica shale plays are so prolific with raw natural gas liquids that the investment in northern West Virginia in midstream ...
Officials hope for economic boost via WV National Guard's Qatar alliance
Charleston Gazette-Mail
Sen. Joe Manchin, D-W.Va., said Qatar has familiarity in industries West Virginia is attempting to grow in, including natural gas. Although the National Guard program's focus is in the military, Manchin said he's hoping the partnership leads to Qatar directly investing in West Virginia and creating jobs.
Judge to issue right-to-work ruling by summer
West Virginia Record
Bailey plans to issue her ruling to determine the constitutionality of the state's right-to-work law before June, according to the Charleston Gazette-Mail. The lawsuit was filed in June 2016 by West Virginia AFL-CIO and other unions alleging that the right-to-work law was unconstitutional. The right-to work ...
Italy's TeMa building North American base in West Virginia
Plastics News (blog)
Italian building products manufacturer TeMa Technologies & Materials srl has started construction of a 42,000-square-foot facility in Kearneysville, W.Va., where it will produce insulation and drainage products from recycled plastics. The automated plant will employ 30 and operate around-the-clo