Media Minute— a weekly dispatch of local, national and world news impacting West Virginia's manufacturing industry.
West Virginia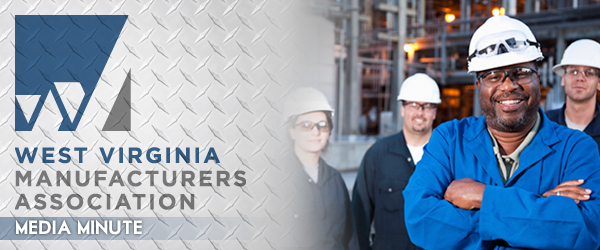 WVMA Media Minute
Media Minute— a weekly dispatch of local, national and world news impacting West Virginia's manufacturing industry.
West Virginia
Justice Ketchum steps away from the Supreme Court
West Virginia MetroNews
"Justice Ketchum has brought a great work ethic and strong intellect to his ... Delegate Mike Caputo, the minority whip, said it was right for Ketchum to resign. ... "The people of West Virginia have lost faith in the integrity of our judicial ...
Step Up for Women prepares RCBI females for manufacturing careers
MU The Parthenon
The Step Up for Women advanced manufacturing pre-apprenticeship ... employment, but it helps fill a critical gap in manufacturing in West Virginia.
Governor's scholars design, 3D print at RCBI
Huntington Herald Dispatch
"When they visit RCBI West Virginia's Advanced Manufacturing Technology Center - they witness the Digital Age - the Internet of Things at work.
Proctor & Gamble mega production facility open for business, ramping up hiringeffort
WV News
Other popular consumer products to be made at the West Virginia plant include Pantene, Head & Shoulders, Aussie and Herbal Essences shampoos ..
Economic development should be the priority discussion this election year
Bluefield Daily Telegraph
Here in the coalfields of southern West Virginia and Southwest Virginia, job creation should certainly be a priority discussion among all candidates.
Daily Mail editorial: More people working and looking for work in the US
Charleston Gazette-Mail
Credit to tax reform that puts more money into employers' and workers' ... "West Virginia enjoyed the nation's eighth highest gain in gross domestic ...
Appalachian region looks to Asia to revive economic hopes
CanadianManufacturing.com
While Ohio governmental entities would receive all the plant's direct benefits, such as income and property taxes, the city of Moundsville, West Virginia ...
Leaders discuss steps to open new airport
Williamson Daily News
Johnson said her goal would be to bring manufacturers of airplane parts and equipment, like KCI Aviation in Bridgeport, West Virginia, which has done ...
Morgantown set to host statewide small business conference
WV News
Topics the conference aims to shed light on include the West Virginia Forward initiative, the post-reform taxenvironment, risk management and ...
WV consumer advocate insists utility tax cuts benefit customers
Huntington Herald Dispatch
CHARLESTON - Major West Virginia utility companies are calling for rate ... "The revenue impacts of this major tax reform should be viewed by the ...
United States
US fires next shot in China trade war
BBC News
They're getting increasingly worried about where this is all going," Ed Brzytwa, director of international trade for the American Chemistry Council, ...
US companies, consumers feeling fallout of Trump's trade war with Canada
The Globe and Mail
He likes the President's promise to bring manufacturing jobs back to the ... Mr. Trump's trade war has damaged the U.S.'s allies and enemies alike, ...
Trump's economic gamble: Solid job gains vs. risky trade war
Virginian-Pilot
The United States added 213,000 jobs in June, and an influx of new ... is to reduce U.S. trade imbalances and create more U.S. manufacturing jobs.
US Manufacturing Jobs Up 36000 in June; 362000 Under Trump
CNSNews.com
In December 2016, the month before President Donald Trump took office, there were 12,351,000 manufacturing jobs in the United States. Since then ...
China Plays for Time in Trade War With Subtle Shift in Rhetoric
Bloomberg
Officials in Beijing appear to be toning down their responses to Donald Trump's tariff threats, amid a slowing economy, a falling stock market and a ...
US oil prices tumble even after biggest weekly supply drop in nearly 2 years
MarketWatch
... double the 4.8 million-barrel decline expected by analysts surveyed by S&P Global Platts and the American Petroleum Institute on Tuesday reported ...