Media Minute— a weekly dispatch of local, national and world news impacting West Virginia's manufacturing industry.
West Virginia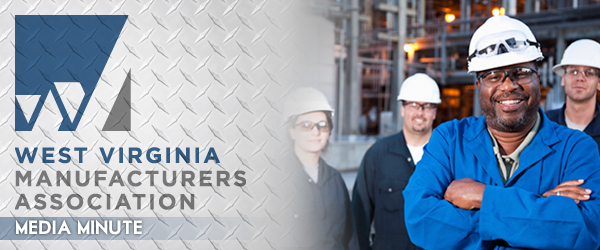 WVMA Media Minute
Media Minute— a weekly dispatch of local, national and world news impacting West Virginia's manufacturing industry.
West Virginia
Bipartisanship brings loan program expansion for W.Va. small businesses
WV News
Working with the West Virginia Small Business Development Center, ... for small business thanks to taxcuts, regulatory reform, and policies helping ...
Unemployment rate rises to 5.4 percent in July
West Virginia MetroNews
West Virginia's seasonally adjusted unemployment rate increased slightly in July to ... The most significant employment gains were in total nonfarm payroll ... The biggest losses were in the manufacturing (400 jobs) and mining and ...
Free trade and W.Va.'s economy
The Inter-Mountain
Many of the economic problems afflicting West Virginia are directly tied to the loss of jobs and opportunity caused by ... the state lost a significant portion of its manufacturing base as those jobs were outsourced from the United States.
From Mills To Manufacturers, Steel Tariffs Produce Winners And Losers
West Virginia Public Broadcasting
Still, the tariffs add a big note of uncertainty to the companies' bottom lines. "Global steel costs have risen substantially and, particularly in the U.S., ...
Shelley Moore Capito: Helping WV students and workers succeed (Gazette Opinion)
Charleston Gazette-Mail
It's clear that the combination of tax reform and cutting burdensome ... Now, we have to make sure that our students and workers in West Virginia are ...
West Virginia's two technology parks paving the way to the future (Daily MailWV)
Charleston Gazette-Mail
The West Virginia Regional Technology Park in South Charleston, one of two ... And then we can even bring the process up to low-level production.
Rebecca McPhail: Manchin can support a stronger WV (Daily Mail Opinion)
Charleston Gazette-Mail
Yet at times, manufacturers in West Virginia have struggled to survive, much less expand, due in part to over-regulation of federal government ...
Kevin DiGregorio: Partners working to grow companies and create jobs (Daily Mail WV)
Charleston Gazette-Mail
Located at the West Virginia Regional Technology Park, the Chemical Alliance Zone houses an incubator called ChemCeption for chemistry-based ...
United States
Coming Soon: Acting EPA Administrator's First Big Moves on Science
Scientific American
Last year, Pruitt picked researchers including some funded by the American Petroleum Institute and the American Chemistry Council, whose work ...
Trump encourages boycott against Harley-Davidson
CNN
(CNN) President Donald Trump said it's "great" that consumers might boycott Harley-Davidson if it moves some motorcycle production overseas.
The Benefits of Embracing Robotics in Manufacturing
Manufacturing.net
Hybrid jobs are the future of manufacturing, especially those that implement robotics. Misconceptions portray robotics as the demise of manufacturing ...
NAM Weighs In On EPA's Proposed Cost-Benefit Analysis Reform
Shopfloor
Ross Eisenberg is vice president of energy and resources policy at the National Association of Manufacturers (NAM). Mr. Eisenberg oversees the ...
UBS: These are the companies most at risk from President Trump's trade war
Markets Insider
UBS rounded up the most at-risk companies in every industry with regards to President Donald Trump's ongoing trade war with China, Europe, and ...
Auto industry caught in the trade war crosshairs
CNBC
"This, unfortunately, appears to be part of a tit-for-tat in an escalating trade war, and it could reach crazy levels," warned Joe Phillippi, head of ...
Trump Hits Turkey When It's Down, Doubling Tariffs
New York Times
WASHINGTON — President Trump said on Friday that he would double the rate of tariffs on steel and aluminum imports from Turkey, inflicting ...