Media Minute— a weekly dispatch of local, national and world news impacting West Virginia's manufacturing industry.
West Virginia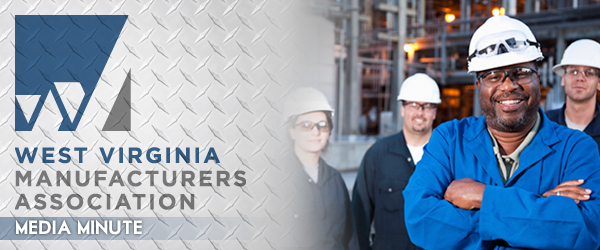 WVMA Media Minute
Media Minute— a weekly dispatch of local, national and world news impacting West Virginia's manufacturing industry.
West Virginia
Governor Justice hints at talks with manufacturer from Wales
West Virginia MetroNews
"There's a manufacturer that's come in that has an illumination process that has ... West Virginia University President Gordon Gee acknowledged the ...
Business news in brief
Huntington Herald Dispatch
TechConnect West Virginia will host the Spirit of Innovations Awards during the ... the Outstanding Woman in Technology Award, Innovative Manufacturer of ... West Virginia Executive Magazine, West Virginia Jobs Investment Trust, ...
Leaders discuss broadband in West Virginia
Beckley Register-Herald
Much of the discussion was on what West Virginia lacks and how to best ... manufacturers to build in the state instead of West Virginians cutting West ...
Trump's trade war with China may hit parts of your car first
ETAuto.com
Now, with the US poised to target another $200 billion of Chinese goods as soon as this week -- including the car lights made by E.D. Opto -- export ...
Making West Virginia Great Again: The Labor Movement Has Answers For The Coal-Centric State
When it comes to winning elections, West Virginia's labor movement says that ... Electric Power, for example, scrapped such a project in West Virginia.
Short takes on women in STEM, ringing bells for Rosies and WV made apple snacks (Daily Mail ...
Charleston Gazette-Mail
West Virginia ranks ninth nationally in apple production but doesn't have the access and the connections to sell fresh apples on a large, national scale ...
West Virginia GOP right about job openings, unemployed workers
PolitiFact
10, the party tweeted, "ICYMI: For only the second time since 2000, there are more job openings than Americans who are unemployed. Tax reform and ..
Poll shows Manchin up on Morrisey by 8 points
Charleston Gazette-Mail
President Donald Trump visited West Virginia to endorse Morrisey on Aug. 21. ... tax reform, immigration reform, and efforts to bring broadband to West ...
Energy insiders discuss diversification
Beckley Register-Herald
WHITE SULPHUR SPRING — Representatives from electric generators and energy suppliers were on hand at the 2018 West Virginia Chamber's ...
Congressional tax reform package meaning lowered utility bills for some W. Va. customers
WTOV Steubenville
The tax reform package passed by Congress in 2017 is forcing cheaper ... In a look at how some West Virginia gas customers will have their rates ...
Mark Sadd: Coal is dead. Long live King Coal! (Daily Mail Opinion)
Charleston Gazette-Mail
They could put a few ex-miners back to work as they have long promised. ... Meanwhile, if West Virginiacoal production is hurting, it isn't because of ...
United States
Trump v. Trumka
Politico
TRUMP'S WAR ON WORKER SAFETY: Pledging to cut regulations "massively" in 2017, Trump made a point of exempting regulations that protected ...
Opinion: The surprising reasons why Trump's trade wars will boost US jobs — and stocks
MarketWatch
Trump can just as quickly de-escalate as escalate his trade skirmishes with our major trading partners, depending on the progress made in ...
Trump Approach on Nafta Relieves Automakers' Worst Fears
New York Times
As the Trump administration sought trade concessions from Mexico in recent weeks, automakers and their suppliers feared that manufacturing costs ...
Study: IT job growth is 8x that of all other job types
HR Dive
Researchers also said that although traditional manufacturing jobs declined due to automation and off-shoring, IT-intensive manufacturing jobs ...
Skilled workers needed to keep economy humming
Watertown Public Opinion
The lack of interest of potential employees in factory jobs is similar to the other jobs discussed. Today's higher tech manufacturing jobs today require ...
As Trump Weighs Tariffs, China's Industrial Ambitions Loom Large
BloombergQuint
(Bloomberg) -- Conflict over China's industrial policies is at the center of a trade war that's set to escalate should President Donald Trump go ahead ...
Trade War Update: China To Suffer Greater Loss Of Income Than US
Forbes
Chinese President Xi Jinping. Barclays Capital says China will see a bigger income hit in a trade war than the U.S., due to the fact that its economy is ...
Indiana is preparing prisoners with skills needed to acquire high-demand jobs on release
nwitimes.com
That's largely due to the Hoosier State's having the highest share of manufacturing jobs in the nation, and numerous Indiana manufacturing operations ...