Media Minute— a weekly dispatch of local, national and world news impacting West Virginia's manufacturing industry.
West Virginia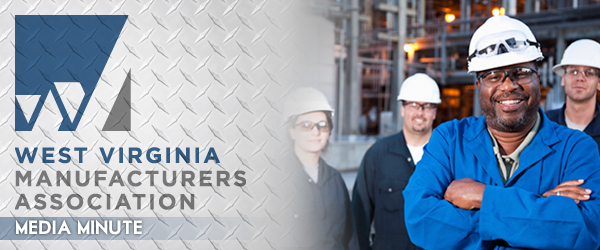 WVMA Media Minute
Media Minute— a weekly dispatch of local, national and world news impacting West Virginia's manufacturing industry.
West Virginia
West Virginia Barrel Company financing for project complete
Beckley Register-Herald
The West Virginia Great Barrel Company (WVGBC) announced Thursday ... The construction of the Cooperage will provide over 80 jobs during the ...
W.Va. lawmakers, associations weigh in on potential energy legislation
WV News
He also pointed out that while large companies based outside West Virginia are often the ones operating the wells, they still employ local people.
Taking advantage of what the state gives us
Beckley Register-Herald
Lacy Davidson with the West Virginia Department of Agriculture spoke on shifting ... Melissa Stewart, with the West Virginia National Guard, shared her ... Speaking on updating the mindset and practices of agriculture production, ...
Joyce Holland: Series of steps can bring prosperity to state
Huntington Herald Dispatch
So very important for all of us in deciding how best to keep West Virginia ... including manufacturing and mines opening; all state employees were ...
Tristate Energy and Advanced Manufacturing Consortium receives $1 million in grants
WV News
"Innovative partnerships and a willingness to work together to improve STEM education is what will propel West Virginia forward. Accessible and ...
Leaders look to future of gas industry in West Virginia
"The sun is shining again in West Virginia," he said, noting he expects ... National Institute of Standards and Technology as manufacturing systems that ...
Public Service Commission takes public comment on proposed pipeline extension
The rally led up to a hearing held by the West Virginia Public Service ... Rebecca McPhail is with the West Virginia Manufacturers Association that ...
Conference focuses on future
Martins Ferry Times Leader
"The sun is shining again in West Virginia," he said, noting that he expects ... Development Partnership, shared the good news that companies from India, ... He said most industrial sites in Belmont and Ohio counties already are ...
United States
Hershey and Walmart join forces to support US manufacturing, job growth
PennLive.com
"Manufacturing and retail partnerships grounded in shared goals like this one generate business opportunity that leads to new jobs from the ...
Trade Deficit With China Shows America's Strength
Bloomberg
That's reflected in the great disparity of direct investment between the U.S. and China. Since 1990, U.S. companies have invested almost twice as ...
Why Europe is ascendant in the pharmaceutical chemical business
Chemical & Engineering News
Reflecting on Europe's current status in custom pharmaceutical chemical manufacturing during a C&EN reception at the CPhI Worldwide conference ...
Guess What? Everyone Was Wrong About Tesla
Forbes
The best thing about all this is that we're not even talking about an automotive company here. Sure, while some still insist on seeing Tesla as a car ...
Midterm elections: Manufacturing workers say Donald Trump is yet to deliver on promises
ABC News
Tommy Wolikow has a lot of time for his nine-month-old daughter Annabella, but it's more than he'd like. He was retrenched from his job at the local ...
Ivanka Trump talks workforce development during Eastern Kentucky tour
WKYT
ROWAN COUNTY, Ky. (WKYT) - Ivanka Trump visited Eastern Kentucky as part of workforce developmenttour with Governor Matt Bevin on Friday.
The US-China trade war is worrying investors more than what the Fed is doing, Art Hogan says
CNBC
The ongoing trade spat between the U.S. and China is the biggest threat to the market right now, not the Federal Reserve's monetary policy, strategist ...