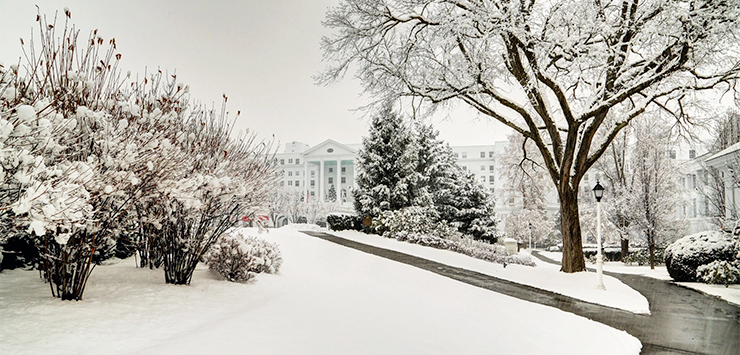 ---
---
The Greenbrier, White Sulphur Springs, WV | $179 per night—Thursday through Saturday. Deadline is October 30, 2017. (855) 453-4858
December 7-9, 2017
Join WV Manufacturers Association members for an informative update session, networking opportunities, and the holiday splendor of the beautiful Greenbrier Resort. The Winter Convention offers a diverse agenda including an over view of West Virginia's competitive place in the global economy, a deeper dive into the WVMA's 2018 Legislative agenda, focus on important workplace issues such as millennial integration and effective communication, and corporate responsibility. This program offers something for everyone and we urge you to include the appropriate individuals from your shop. Our goal is to have 150 attendees this year as we continue to develop this event as a marquee function for the WVMA.
Cost: $275 member, $350 non-member, $199 spouse/guest
Thursday: WVMA Board Meeting/Dinner
Friday: Education Sessions – Critical Issues for Manufacturing, Creating a Competitive Manufacturing Investment in WV, Productivity Roundtable, Political Mobilization.
Saturday: Business Over Breakfast/WVMA Annual Meeting
Sponsorship Opportunities:
Presenting Sponsor ($5,000 and up)
Signage at event, recognition on PowerPoint presentation, logo listed in event program and website page, listing as primary sponsor of conference segment (keynote, luncheon, breakfast, or cocktail reception), recognition on event website and marketing materials, exhibit
Champion ($2,500)
Signage at event, recognition on PowerPoint presentation, company name listed in event program, recognition on event website and marketing materials
Star ($1,000)
Recognition on PowerPoint presentation, company name listed in event program, recognition on event website and marketing materials
Register Online
Members of the WV Legislature are invited to attend the day portion of the December 8 program at no cost. The program begins at 9 a.m. and concludes at 3:30 p.m. Lunch is included.

Please contact the WVMA at 304-342-2123 for a registration discount code or at patty@wvma.com

April 16-17, 2018
Marriott Waterfront Place
Morgantown, WV